Drunk driving arrests in Honolulu increased during 2008 according to the Honolulu Police Department . The data shows nearly 400 more motorists were charged with suspicion of DUI in Honolulu in 2008 than the previous year. That continues an eight year trend that can be explained at least in part by increased police efforts to catch drunk drivers. The total number of arrests for suspicion of drunk driving in Honolulu during 2008 was 4,316. All but 62 of those cases were formally charged and prosecuted.
Of 46 vehicular fatalities on Oahu in 2008, 14 involved alcohol, a significant drop in both categories. Those figures still should alarm all of us because 14 deaths due to drunk driving is a horrible toll on the families of the victims.
A recent story in the Honolulu Advertiser Staff Writer Peter Boylan details these numbers:
O'ahu traffic fatalities last year hit the second-lowest total in the last 50 years, as police stepped up traffic enforcement and arrested more drunk drivers, according to Police Chief Boisse P. Correa.

There were 46 traffic deaths last year, 14 of them alcohol-related, compared with 67 deaths and 24 alcohol-related fatalities in 2007. Honolulu police arrested 4,316 allegedly impaired drivers in 2008, the highest total in the past nine years, up from 3,921 in 2007.

"That means we're doing a lot of work. DUI enforcement is up 10 percent (from 2007). That means we're taking more people off the road that shouldn't be there and making our roads safer," said Correa in an interview with The Advertiser and the Honolulu Star-Bulletin. "We've been doing good work and the community is backing us up … and we need the community support."
Congratulations to the police on vigilance in getting drunk drivers off the road. What do you think we can do to reduce the number of deaths on Hawaii roads due to drunk driving? As a Hawaii automobile accident attorney I am always sad when the families of of the victims of drunk driving fatalities come to my office. Your ideas are of interest to me.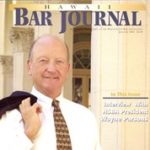 A resident of Honolulu, Hawaii, Wayne Parson is an Injury Attorney that has dedicate his life to improving the delivery of justice to the people of his community and throughout the United States. He is driven to make sure that the wrongful, careless or negligent behavior that caused his clients' injury or loss does not happen to others.