One of my pet peeves is potholes. How about you, readers? Any of you like potholes? Catch a 6-inch deep 2 foot wide pothole at 45 mph and you'll feel $45 slip out of your wallet on car maintenance expenses during the rest of the year. Tires, alignment, shocks ….. you know the drill.
We have a lot of mopeds and motorcycles on Hawaii roads. We have rain. When it rains the potholes fill up with water and blend into the shiny glisten of rain on the streets at night. One of the worst broken legs I have ever seen _ and I have seen a lot of broken legs, folks _ was a moped rider heading home from work in Kalihi who hit a hidden water-filled pot hole at about 30 mph on his moped. He was a heavy machinist and could never work in that profession again. The pot hole had been on the repair list by the City & County of Honolulu for a long time. Was it poor planning or lack of funds that left the trap for the moped rider? It was raining. Just like it always does in Honolulu in the evening.
What do Iowa, Michigan, Virginia, North and South Carolina and Minnesota have in common with Hawaii? Each is different _ viva la difference _ but each is also more the same. Well we all have problems with highway maintenance and we all have problems with potholes. This series on interstate highways by Injury Board members has listed a lot of areas to look into from the point of view of safety, injury or death prevention and protection of our families. Hey, we all drive to work each day, too!
The interstate Highway system, be it the H-1 on Oahu or I-80 cutting through the heartland of Iowa, is like the arteries in a human body. And the rural roads and connectors are the vessels and veins. The common ground that ties us all together is the fact the cars and trucks we drive are all the sane and the laws of physics and engineering force the same result when a Ford Focus encounters a PeterBilt truck or a pothole. When a tire blows out and the car veers into the shoulder, the mechanics of the ensuing slide and car rollover is the same everywhere.
As Devon Glass stated in elegant simplicity five seconds is enough time for a truck to travel the distance of a football field. Count to 1 and ask how far that truck traveled? One hundred and 2 feet – 102 feet. My Honda Element is 14 feet long which means that Truck travels over 14 Honda Element car lengths in one second at 70 MPH. I checked it out on the H-1, H-2 and H-3 interstate highways on Oahu and the math is the same in the flat Midwest of Glass and Lombardi as it is in the mountains of Hawaii.
While participating in the joint efforts of Injury Board attorneys around the country to educate and inform the public (and the politicians) about the dark side of the interstate highway driving experience I actually learned a lot. Rick Shapiro's article Monday on Uninsured motorist insurance coverage is brilliant: Uninsured Drivers On The Highways: Cause of Higher Rates of Injuries & Deaths? A lot of attorneys don't know what Rick Shapiro explained for the general public. Continuing with our series on interstate driving and safety, what can I add to, or constructively criticize that has already been said in Rick's recent Blog on uninsured drivers and Pierce's Blog on hit and run drivers, or Devon's insights about texters and Steve's Blog on the same subject?
The data is mind boggling. As an attorney in Honolulu I read a lot about the law and I try to keep abreast of the latest insights about safety and accident prevention. Well I just learned a lot and I am committed to do something positive with it!
Lets go back to potholes and defective unsafe highways.
Hawaii's roads and bridges are becoming increasingly deteriorated and congested. Twenty-seven percent of Hawaii's major roads are in poor condition – the fourth highest share in the nation. In the past decade, the state has used a combination of federal and state funding to improve its surface transportation network, but many sorely needed transportation projects still remain unfunded, according to a new report released September 3 by TRIP, a Washington, DC based national transportation organization. I wrote on this subject on Wednesday after reading an informative article in The Hawaii Reporter by Peter Moretti. Both are articles are good background reading.
Hawaii Highway Chronicles: Are Our Roads The 4th Worst in the Country? By Wayne Parsons
Hawaii Roads 4th Worst in the Nation– By Peter Moretti
According to the TRIP report, Future Mobility in Hawaii: Meeting the State's Need for Safe and Efficient Mobility, driving on roads in need of repair costs each Hawaii motorist an average of $503 annually—$431 million state-wide (third highest in the nation)—in the form of accelerated vehicle depreciation, additional repair costs, and increased fuel consumption and tire wear.
The report also finds a total of 43 percent of Hawaii's bridges are deficient or obsolete. Twelve percent of the state's bridges are structurally deficient and an additional 31 percent are functionally obsolete. In addition to deteriorated road and bridge conditions, 45 percent of Hawaii's major roads are considered congested.
And according to the TRIP report, the fatality rate on Hawaii's rural roads is nearly four times greater than the fatality rate on all other roads in the state. TRIP's report contains lists of needed projects to improve roads and bridges and ease congestion that cannot proceed without additional transportation funding. These statistics jump out at me:
The traffic fatality rate in 2008 on Hawaii's non-Interstate rural roads was 2.52 traffic fatalities per 100 million vehicle miles of travel, which is approximately four times higher than the traffic fatality rate on all other roads and highways in the state (0.64).

Driver behavior, vehicle characteristics and roadway design. Roadway design may be a factor in as many as one-third of fatal traffic accidents.

Several factors are associated with vehicle accidents that result in fatalities, including adding or improving medians, adding rumble strips, wider lanes, wider and paved shoulders, upgrading roads from two lanes to four lanes, and better road markings and traffic signals, can reduce traffic fatalities and accidents while improving traffic flow to help relieve congestion.

Where appropriate, highway improvements such as removing or shielding obstacles, highway safety improvements will result in 145 fewer traffic fatalities over a 10-year period. The Federal Highway Administration has found that every $100 million spent on needed highway safety improvements will result in 145 fewer traffic fatalities over a 10-year period.
What is worth to save 145 lives? If I use insurance executives bonuses recently publicized for AIG and other behemoth corporations, it seems to me that $100 million to save 145 lives is well spent. And we don't spend it the interstate highways get worse and the death and injury climbs.
The federal surface transportation program has helped Hawaii in the past. The boring title of that law belies to skid marks and car crashes that occur daily on Hawaii roads taking lives and breaking hearts. Its not about asphalt, its about life and death.
Federal funds provide 44 percent of revenues used annually by the Hawaii Department of Transportation to pay for road, highway and bridge construction, repairs and maintenance and 14 percent of the revenue used annually to pay for the operation of and capital improvements to the state's public transit systems. This year's federal American Recovery and Reinvestment Act (ARRA) provides approximately $126 million in stimulus funding for highway and bridge improvements and $44 million for public transit improvements in Hawaii. This funding, however, is not sufficient to allow the state to proceed with numerous projects needed to modernize its surface transportation system.
I reminded on the Thomas Wolf novel "You Can't Go Home Again" where one of the last chapters was entitled "the Wind Is Rising and The River Flows". Pierce Egerton and Steve Lombardi and Mike Bryant are calling for proactive efforts to use what we know to make change. Devon Glass and Rick Shapiro want the public to know how to be safe and protect their families when driving. It will take changes both in drivers and in passengers (buckle up) as well as diligence by legislators and highway officials. Change that will save lives and protect against spinal cord injuries and traumatic brain injury will not come easy but the deaths and injuries must stop. Bring the college kids home for Christmas and protect the elderly as they cross the street in a crosswalk.
As an Injury Board member I am proud to be among a group of attorneys dedicated to reducing death and injury.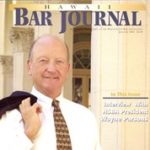 A resident of Honolulu, Hawaii, Wayne Parson is an Injury Attorney that has dedicate his life to improving the delivery of justice to the people of his community and throughout the United States. He is driven to make sure that the wrongful, careless or negligent behavior that caused his clients' injury or loss does not happen to others.