A 5-year-old boy was ejected from the passenger side of a car Friday morning. The car crash happened across from Our Lady of Peace and Safe Journey Church in Chalan Pagowho, Guam. The boy is in stable condition, said Guam Memorial Hospital nursing supervisor Josephine Eustaquio.
"He's awake and alert," she said. "He may be sent home soon."
The boy suffered a serious head trauma and was taken to GMH, said Guam Fire Department spokesman Capt. Joseph Flores according to the story reported in Guam Pacific Daily News.
He had surgery that afternoon for head trauma, GMH nursing supervisor Cely Mangrobang said on Friday. The boy was fortunate that a couple of brain surgeons visiting from Queens Medical Center in Hawaii were at the Tamuning hospital. Specialists from the Honolulu hospital make their periodic visits to Guam.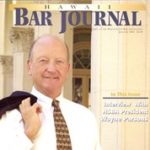 A resident of Honolulu, Hawaii, Wayne Parson is an Injury Attorney that has dedicate his life to improving the delivery of justice to the people of his community and throughout the United States. He is driven to make sure that the wrongful, careless or negligent behavior that caused his clients' injury or loss does not happen to others.