A report in the Honolulu Advertiser identifies the mother of penelope Tukimaka as the person taken to the hospital by ambulance after a car accident in Honolulu. Mrs. Tukimaka was allegedly on the way to pick up her grandson from school when the automobile accident occured.
Police officers take down insurance information from Penelope Tukimaka, whose mother was involved in a car accident at the intersection of Lusitana and Kuakini streets on Monady.
Kent Nakamura – Honolulu Advertiser
The facts of the accident are not available in the news. If anyone has information on how the accident happened please let me know. The intersection can be seen on the map below: <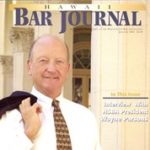 A resident of Honolulu, Hawaii, Wayne Parson is an Injury Attorney that has dedicate his life to improving the delivery of justice to the people of his community and throughout the United States. He is driven to make sure that the wrongful, careless or negligent behavior that caused his clients' injury or loss does not happen to others.