The Honolulu Advertiser has a very interesting website that I use often. Its called "By the numbers". I am a numbers person which in some way probably explains the fact that I am an attorney who also has a Masters Degree in Physics. As I research facts to put in Blog article I often find interesting and useful statistics at the By he numbers site. It doesn't really work to try and re-write what they have written on a topic because it is in the best form at their site.
I have been focusing on crosswalk injuries and deaths in Hawaii and when I came across the By the numbers summary of those stats in Hawaii I found it very illuminating. Here it is verbatim. I hope the Advertiser staff doesn't mind me spreading their good work:
Number killed or injured

From 1996 to 2003, more than 230 pedestrians were killed and 2,500 injured in Hawai'i traffic accidents, making the state's death rate the 15th-highest in the country.

Number hospitalized

For every pedestrian killed in Hawai'i, about nine others were hospitalized and as many as 80 were treated in emergency rooms.

Kinds of injuries

Of those hospitalized, most suffered fractures (74 percent), bruises and superficial injuries (41 percent), internal injuries (37 percent) or traumatic brain injuries (36 percent).

Victims likely to be elderly

Ages of those killed ranged from infancy to 94, but 60 percent were 65 or older, even though that age group represents only 11 percent of the state's population.

Ethnicity of victims

Thirty-nine percent of pedestrians killed were Japanese, followed by Filipinos (24 percent), Chinese (10 percent), Caucasians (9 percent), Hawaiians (7 percent), Koreans (7 percent) and Hispanics (5 percent).

When accidents happened

The crashes occurred at all hours of the day, with two noticeable peaks — from 5:30 to 8:30 a.m. (29 percent) and from 5:30 to 8:30 p.m. (20 percent).

Effects of alcohol

Alcohol was involved in about one-quarter of the accidents, but more often, it was the pedestrian (15 percent) who was drinking, not the driver (10 percent).

Who's to blame for accidents

Drivers and pedestrians were about equally at fault in collisions. In more than half the cases (54 percent), pedestrian victims were in the roadway erroneously. About half the drivers made an error (often failure to yield, inattention or speeding).
Recently I have published a story about a crosswalk lighting system that could reduce the number of tragedies that you see above:
The Hawaii Pedestrian Crosswalk Safety Chronicles: Innovative Solution for Crosswalk Safety
Hopefully innovations like the in roadway lighting system Smart Crosswalk™ will start showing up on Hawaii streets and the death toll will go down.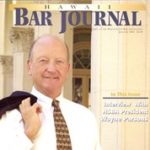 A resident of Honolulu, Hawaii, Wayne Parson is an Injury Attorney that has dedicate his life to improving the delivery of justice to the people of his community and throughout the United States. He is driven to make sure that the wrongful, careless or negligent behavior that caused his clients' injury or loss does not happen to others.