About six hours after a 68-year old Ewa Beach woman was struck and killed by a hit-and-run driver on Fort Weaver Road in Ewa Beach a young boy on a bicycle was struck by a hit-and-run driver on Lanikuhana Street in Mililani, who ran over him and kept going. According to KHNL News:
Police say a 12-year-old boy was riding his bicycle on Lanikuhana Avenue, saw a blue truck coming out of Kaekae Street, hit his brakes, and flipped over his handle bars onto the roadway. They say the pickup ran over him and then kept going. The boy went to the hospital in stable condition.

"It makes me feel bad," Syfert said. "My first reaction would be they didn't know they hit someone. If they did, if they did, we'll find them."
Thirty-eight people have died on Oahu's roadways this year, compared to 31 at this time last year.
If you have any information about either of these cases, call police or leave a Comment below.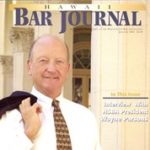 A resident of Honolulu, Hawaii, Wayne Parson is an Injury Attorney that has dedicate his life to improving the delivery of justice to the people of his community and throughout the United States. He is driven to make sure that the wrongful, careless or negligent behavior that caused his clients' injury or loss does not happen to others.