A pedestrian, Richard Tasaka, 63 years old, was fatally injured Friday night while walking in the McCully area. He was struck while in a crosswalk by a tour bus at about 7:30 p.m. Mr. Tasaka was crossing Beretania Street at McCully and the tour bus was making a left turn from McCully onto Beretania. Tasaka was crossing in the mauka direction. The bus was a Roberts tour bus. The story was reported in the Honolulu Advertiser in the Tuesday paper.
Mr. Tasaka was taken to The Queen's Medical Center in critical condition and passed away later.
What can we do on Oahu about the number of pedestrians killed or seriously injured by motorists? The new crosswalk laws are being enforced and it seems that awareness is at all time high. But still nearly every week we see stories like the one about Mr. Tasaka. Is it speed? Inattention?
I have previously written on this subject after a number of terrible pedestrian injuries: Pedestrian Personal Injury Epidemic – Looking For Answers; Automobile Strikes Man On Sidewalk Along Kalanianaole Resulting In Serious Personal Injury; Pedestrian Critically Injured After Being Hit By Car On Farrington in Maili.
And now I report another tragic loss in Mr. Tasaka's death in a crosswalk. If anyone knows the answer I am interested in hearing it. Feel free to comment. As a personal injury attorney these senseless deaths are frustrating because any remedy that the courts may provide will not bring back Mr. Tasaka.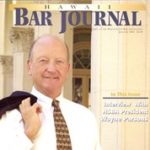 A resident of Honolulu, Hawaii, Wayne Parson is an Injury Attorney that has dedicate his life to improving the delivery of justice to the people of his community and throughout the United States. He is driven to make sure that the wrongful, careless or negligent behavior that caused his clients' injury or loss does not happen to others.