An article in the Bennington Banner about seat belts and automobile accidents made me think about what we can do to encourage safety in driving at this time of year. What time of year is it? From Bangor to Lahaina it is Pron season.
That took me to another article I had recently read by Des Moines, Iowa safety advocate and attorney Steve Lombardi. Mr. Lombardi has become one of my favorite reads here on the internet. He writes with clarity, hard facts, logic and a great sense of humor. Scratch beneath the surface though and you find one of our most valuable and prolific safety voices. Mr. Lombard is a personal injury attorney who wants to eliminate his cases, not by tort reform by the insurance industry shouting false claims about lawsuit abuse, but by getting people to take measures to avoid ever being injured and needing to hire an attorney to fight with insurance company to get their medical bills paid. I highly recommend that you read:
The prettiest thing you can wear to prom is a seat belt by Steve Lombardi.
The Bennington Banner article, published on Friday, May 22 by Deborah Gallant starts with the fact that gas prices aside, people will spend a lot of time in cars this summer and she wants us to all buckle up.
One of the best things you can do for your safety and the safety of your passengers is to insist that everyone "buckle up." The truth is, it could save a life.
What do we know?
More people die from automobile-related injuries every year than from any other type of injury.
The Center for Disease Control (CDC) estimates that three out of 10 Americans don't wear their seat belts in an automobile.
Of the 32,092 occupants of passenger vehicles killed in motor vehicle traffic crashes in 2006, more than 15,000 were not wearing a seat belt or secured in a car seat or booster seat.
Most important is to protect the most vulnerable: children. The proper restraint system is more important to them that to any other occupant of the automobile. As Ms. Gallant reports:
Child safety seats reduce the risk of death in car crashes by 71 percent for infants and 54 percent for toddlers ages one to four.
For children ages four to seven, booster seats reduce injury risk by 59 percent compared to safety belts alone.
Night is the worst time:
The number and percentage of unrestrained fatalities is much higher at night.
The worst time of night is from midnight to 3 a.m.
Youth is definitely a focus for buckle up and click it or ticket campaigns. According to Bennington Banner article, "[F]or younger drivers and passengers aged 16 to 34, the percent of those killed in a crash who were not wearing a seat belt was 68 percent or more."
What is it about people in pick-up trucks? More than 75% of pick-up truck occupants who were fatally injured in a crash were not wearing seat belts.
How do states compare in seat belt use? I am proud to say that Hawaii ranks #1 (we have a law) at 97.6%. Hawaii is a great place to live they always say and the use of seat belts adds meaning to the "to live" part of that phrase.
Seat belt use nationwide in 2007 was 82 percent. Seat belt use by state ranged from 63.8 percent in New Hampshire (the only state without a seat belt law) to 97.6 percent in Hawaii. Vermont usage of seat belts has fluctuated over the past few years. In 2007, the use rate in Vermont was 87.1 percent, the state's highest in five years.
Ms. Gallant offers some tips about kid safety in cars:
By law, children under 4 years old must be belted into specially designed car seats. They should not be permitted to stand up and move around while a vehicle is moving. Infants should never be held in an adult's lap. The force of impact during an accident increases the infant's weight 12 times, making it impossible for an adult to hold onto the child.
Who is Deborah Gallant? Nope, not a journalist writing a story and meeting a deadline. Deborah Gallant is an EMT-I at Southwestern Vermont Medical Center. She contributed this piece as part of the Bennington Banner "Health Matters" series, a weekly column meant to educate readers about their personal health, public health matters, and public policy as it affects health care.
We appreciate this helpful and factual reminder about seat belts and automobile safety from someone who knows, an emergency medical staffer at the Vermont Medical Center. Thanks Deborah. Your voice reached all the way to Honolulu. A perfect summer of car safety is not possible but seat belts can save many families from the unfathomable tragedy of a car crash injury.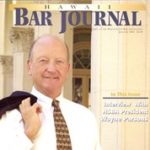 A resident of Honolulu, Hawaii, Wayne Parson is an Injury Attorney that has dedicate his life to improving the delivery of justice to the people of his community and throughout the United States. He is driven to make sure that the wrongful, careless or negligent behavior that caused his clients' injury or loss does not happen to others.