In one of the most important decisions since the addition of Chief Justice Roberts and Justice Alito to the U.S. Supreme Court, the Court's decision in Exxon Shipping v. Baker took away the jury verdict against Exxon and reduced it to the standard that punitive damages should not be greater than other damages in a case. This decision, written by Justice Souter, folloows an earlier decision in Campbell v. State Farm that limited punitive damages to no more than 10 times other damages in the case.
Justice Souter dispelled the common myth that punitive damage awards are a rampant problem noting studies that show that the frequency and size of punitive damage awards are not a problem in general.
In a trial where punitive damages are an issue, the plaintiff usually argues that the purpose of punitive damages is to send a message to the defendant that they should not put profits over human life and safety. The idea is to make an impact on the pocket book of the wrongdoer. Long ago, in the exploding gas tank case, the evidence showed that the automobile manufactuer knew that the gas tanks would explode and would cause burn injuries and eaths but went with a cheap part instead of a slightly more expensive part. The manufacturer actually calculated that the savings on the cheap part coupled with the cost of a recall and the payments to the families of injured and dead passengers would cost about $600 million. They decided to take that riskj rather than fixing the cars. When the jury saw this evidence they awarded $600 million in punitive damages to teach the manufacturer that it should not put profits over people.
If a company has billions in profits then a few million is not a penalty. Companies will now have more reason to gamble with your health and safety in their pursuit of profits. Attorneys will be less likely to take on these difficult cases that can go over for 10 or 20 years. Attorneys reprepresenting consumers in these cases do not get paid until money is collected and so they must wait 10 or 20 years to be paid. In addition, the attorneys often pay over a million dollars in court costs, expert fees and research.
The Exxon decision is a blow to civil justice and to the public who can expect to see more dangerous products in the stores and less safe medications and automobiles.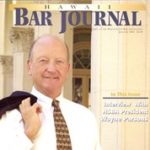 A resident of Honolulu, Hawaii, Wayne Parsons is an Injury Attorney that has dedicate his life to improving the delivery of justice to the people of his community and throughout the United States. He is driven to make sure that the wrongful, careless or negligent behavior that caused his clients' injury or loss does not happen to others.