KHON TV reports that a hit and run driver has been apprehended in the death of Lindsey Kane in Waipahu. The story was reported today on KHON TV by Brianne Randle. Here is their report:
Charges are pending against a 31-year-old Waipahu man who was arrested in connection with a recent fatal hit and run crash. The victim's family is certain police have the right man.

The Kane family made a plea New Year's Eve for help finding the driver who killed their brother Lindsay Kane.

He was hit last month by a teal colored F-150 pickup that veered into his lane on Farrington Highway. The driver of the truck fled the scene. Kane died later that night.

His older brothers Rod and Kimo wanted answers.

"Because we lost someone we loved dearly," said Rod Kane.

They posted an ad on Craigslist. Asking anyone with information on the driver to come forward. Even pleading with the person responsible to turn him or herself in. They say the e-mails came pouring in.

Friday afternoon, a tip led them to the home of 31-year-old Siaose Feleunga.

"I went to the mom's house and the mom was getting ready to go to the police station and they caught her son," said Kimo Kane.

She told them she was the owner of the blue truck police were investigating and that her son was responsible.

"She said that her son was in the accident that killed my brother," said Kimo Kane.

Off camera, Kelly Feleunga says her son told her he ran because he was wanted for multiple outstanding traffic warrants.

Police arrested Feleunga on four counts of contempt. He was later booked on suspicion of negligent homicide and failure to render aide.

The Kane's admit, an arrest doesn't bring closure.

"My brother will forever be in our hearts but, everybody deals with this type of tragedy in a different way, until he's actually convicted we won't get closure. not for myself not for the rest of the family," said Rod Kane.

Siaosi Feleunga has not yet been charged with the crime. It is common procedure for traffic investigators to release suspects pending further investigation of a crash.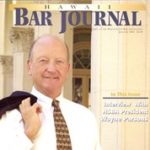 A resident of Honolulu, Hawaii, Wayne Parsons is an Injury Attorney that has dedicate his life to improving the delivery of justice to the people of his community and throughout the United States. He is driven to make sure that the wrongful, careless or negligent behavior that caused his clients' injury or loss does not happen to others.