An investigation by the state Department of Land and Natural Resources (DLNR) along with the Coast Guard is underway into an ocean boating death at maunalua Bay on Sunday, 4 October 2009. The victim, Keahihoku K.P. Lum of Honolulu, was in the water diving when the boat struck him shortly before 1 P.M. The boy was a senior at Farrington High School.
The Medical Examiner identified trauma to Keahihoku's chest and stomach from a boat propeller. Most boats have propeller guards to protect against this type of tragedy. The Propeller Guard Information Center has a wealth of information on propeller guards. The site includes references to support groups for families like the Lum's.
Although the death is labeled as an accident it is certainly being looked at carefully by the investigators as it should be. One mus hope that they look closely at why the propeller guard was not shielded. If anyone has information about this incident thy should come forward to the Coast Guard, the DNLR or post a Comment below.
My thoughts go out to the Lum family.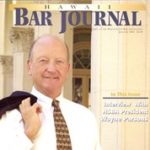 A resident of Honolulu, Hawaii, Wayne Parsons is an Injury Attorney that has dedicate his life to improving the delivery of justice to the people of his community and throughout the United States. He is driven to make sure that the wrongful, careless or negligent behavior that caused his clients' injury or loss does not happen to others.