Wrongful death is always a tragedy and often the family comes into the office of an attorney with serious financial problems due to the loss of a loved one. Dealing with the huge emotional loss and the sadness is enough of a burden but paying bills and keeping current on the rent and mortgage and school tuition is often a frightening prospect to the emotionally overwhelmed family particularly if the wrongful death is of the major family wage earner. The Hawaii wrongful death attorney will explain wrongful death under Hawaii law and outline their rights under Hawaii law. Here is what they will learn.
A wrongful death occurs when someone is killed as a result of the negligent or reckless actions of another person. In situations where a person's actions are intended to harm or kill the victim, it will be considered wrongful death, and also may be a crime under the penal code. Driving under the influence of alcohol (DUI) is a crime and if the drunk driver kills someone the crime of manslaughter or negligent homicide may be pursued by the prosecutor.
A lawsuit for wrongful death can also be brought in civil court by the immediate family of the victim. Hawaii Revised Statutes §663-3 is the wrongful death law in Hawaii.
§663-3 Death by wrongful act. (a) When the death of a person is caused by the wrongful act, neglect, or default of any person, the deceased's legal representative, or any of the persons enumerated in subsection (b), may maintain an action against the person causing the death or against the person responsible for the death. The action shall be maintained on behalf of the persons enumerated in subsection (b), except that the legal representative may recover on behalf of the estate the reasonable expenses of the deceased's last illness and burial.

(b) In any action under this section, such damages may be given as under the circumstances shall be deemed fair and just compensation, with reference to the pecuniary injury and loss of love and affection, including:

(1) Loss of society, companionship, comfort, consortium, or protection;

(2) Loss of marital care, attention, advice, or counsel;

(3) Loss of care, attention, advice, or counsel of a reciprocal beneficiary as defined in chapter 572C;

(4) Loss of filial care or attention; or

(5) Loss of parental care, training, guidance, or education, suffered as a result of the death of the person;

by the surviving spouse, reciprocal beneficiary, children, father, mother, and by any person wholly or partly dependent upon the deceased person. The jury or court sitting without jury shall allocate the damages to the persons entitled thereto in its verdict or judgment, and any damages recovered under this section, except for reasonable expenses of last illness and burial, shall not constitute a part of the estate of the deceased. Any action brought under this section shall be commenced within two years from the date of death of the injured person, except as otherwise provided. [L 1923, c 245, §1; RL 1925, §2681; am L 1931, c 16, §1; am L 1933, c 139, §1; RL 1935, §4052; RL 1945, §10486; am L 1955, c 205, §1; RL 1955, §246-2; HRS §663-3; am L 1972, c 144, §2(c); am L 1997, c 383, §20]
The spouse and children, are allowed to file a wrongful death claim. Sometimes, this will be extended to include the parents of the victim, particularly in instances where the victim does not have a spouse or children. Brothers and sisters of the victim may be able to bring claims if they are dependent in some way on the victim or witnessed the event that caused the death.
Wrongful death claims can result from any incident where a person's death is caused by negligent or reckless behavior. These incidents can include:
Automobile accidents, Defective products, Boating Injuries, Surgical error, Medical malpractice,
Nursing home abuse, Construction accidents, Workplace accidents, Unsafe premises, Plane crashes.
In order to win a wrongful death lawsuit, you must be able to prove that the person accused of wrongful death had an obligation or duty to act in a certain way, and by failing to do so, caused the victim's death.
The burden of proof in wrongful death cases is a "preponderance of the evidence." This means you only have to show that it is more likely than not that the defendant's actions led to the death of your loved one. This is considerably less than the burden of proof in a criminal case, where you need to prove guilt "beyond a reasonable doubt."
Evidence needed to prove fault in a wrongful death case includes testimony from witnesses who saw the incident, wrote medical reports, engineering expert reports and police reports. In cases involving medical malpractice, boating accidents, defective products, vehicle safety, or construction site safety, you will also need testimony from an expert witness.
Generally, monetary damages are awarded to financially compensate the victim's family for their losses. Generally that means all of the injuries and losses that flow from the injury, illness and death. A precise list of the compensation requires a wrongful death attorney to fully understand the life of the victim.
The victim in a wrongful death suit is represented in the lawsuit by his or her estate. A legal action is filed to create that estate in the probate court. The estate of the deceased is able to make a claim for the future income that the victim would earn if they had lived. The estate also recovers money damages for the pain and suffering, emotional distress and other elements of "general damages" suffered by the victim before he or she died. In the case of an instant death their is often a very small amount of damages for pain and suffering and the other elements of general damages. Damages may be awarded for:
? Funeral expenses
? Medical expenses
? Pain and suffering
? Loss of companionship
? Loss of income
? Loss of inheritance
? Loss of benefits
General damages are defined in Hawaii Revised Statutes 663-8.5 and are explained in a real case situation in Ozaki v. AOAO of Discovery Bay:
"HRS ? 663-8.5(a) (Supp. 1992) provides that `noneconomic damages which are recoverable in tort actions include damages for pain and suffering, mental anguish, disfigurement, loss of enjoyment of life, loss of consortium, and all other nonpecuniary losses or claims' (emphasis added)."(35) Id. (quoting HRS ? 663-8.5). The supreme court defined hedonic damages as "damages `for the loss of enjoyment of life, or for the value of life itself, as measured separately from the economic productive value that an injured or deceased person would have had.'" Id. at 284 n.2, 884 P.2d at 347 n.2 (quoting Black's Law Dictionary 391 (6th ed. 1990)).

Thus, had she survived, Cynthia would have had a cause of action for loss of enjoyment of life. Under HRS ? 663-7, Cynthia's claim survived her death and, hence, her estate should have been able to sue for such damages. To hold otherwise would permit one who is merely injured by a tortfeasor to recover damages for loss of enjoyment of life but prevent the estate of one who dies from his or her injuries from a similar recovery.(36)

Thus, we conclude that with regard to Cynthia's estate, the court erred in precluding Plaintiffs' evidence of loss of enjoyment of life.
If the person's actions were intentionally meant to harm the victim, or if a crime was committed as in a DUI, punitive damages may be awarded as well. However most insurance companies generally do not insure for criminal behavior and specifically exclude payment of punitive damage awards. If the defendant is married and holds property as tenants by the entirety with their spouse, the property of the defendant can not be taken to pay an award of damages.
There is a time limit on filing a wrongful death claim, which in Hawaii is 2 years from the date of the injury that led to the death. In medical malpractice cases that time may be extended if the family does not learn of the negligence for some time. In cases against the government there are shorter time periods than 2 years and you will want to consult with your Hawaii wrongful death attorney to make sure that you meet all deadlines for bringing an administrative claim such as a Federal Tort Claim, or filing a lawsuit.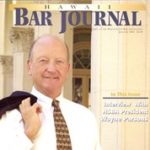 A resident of Honolulu, Hawaii, Wayne Parsons is an Injury Attorney that has dedicate his life to improving the delivery of justice to the people of his community and throughout the United States. He is driven to make sure that the wrongful, careless or negligent behavior that caused his clients' injury or loss does not happen to others.