Minna Sugimoto (bio | email) of KHNL TV News covered the Court story in Honolulu of Andra Kimp who is now behind bars serving 20 years for a 2003 DUI crash that killed his passenger.
The deadly crash on the H-1 Freeway resulted in a one year jail term for Kimp. But that was not enough to deter his high risk behavior and his penchant for booze. But the judge refused, saying he can't take that chance with the publics' safety.
Only 4 months after getting out of jail Kimp was arrested in Virginia with a 0.31 blood alcohol (BAC). The limit is 0.08 so Kimp was almost 4 times over the legal limit.
"Released on probation with the condition that he not drink and he not drive, he was apprehended with almost four times the legal limit," Arkie Koehl, Mothers Against Drunk Driving Hawaii, said. "It's a slap in the face."
Judge Richard Pollack threw the book at Kimp and re-sentenced the former Schofield Barracks soldier to 20 years in prison, and denied Kemp's plea for reconsideration and leniency:
"I was trying to change my life and everything, your honor, and if I could have another chance, I know I'll be a better person," the convicted drunken driver said.
Am I the only one who is thinking "Give me a break!"? Obviously Judge Pollack didn't buy this lame plea.
MADD supports Judge Pollack's ruling:
"I'm sure that the judge was chagrined, as I'm sure we all were that this happened, and wasn't going to let it happen again," Koehl said.
Kimp needs AA and now he will have time to look at himself without having a beer in his hand. He has an excellent military record, has no prior convictions, and is a father to two young children. Alcoholism doesn't just take over the lives of failed people. bank presidents, attorneys and soldiers can all become addicted. There is help at Alcoholics Anonymous and that help is free and lasts a lifetime. Maybe Kimp will find his way to AA now. Unfortunately he cannot bring back the life of the person he killed.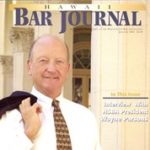 A resident of Honolulu, Hawaii, Wayne Parsons is an Injury Attorney that has dedicate his life to improving the delivery of justice to the people of his community and throughout the United States. He is driven to make sure that the wrongful, careless or negligent behavior that caused his clients' injury or loss does not happen to others.