According to a report in U.S. News & World Report, "King Nut" Peanut Butter is the likely source of a salmonella outbreak. Here is the U.S. News & World Report story:
Two kinds of peanut butter are being recalled after public health officials pegged them as the most likely source of a salmonella outbreak that has sickened at least 399 people in 42 states. King Nut Cos., which distributes but does not manufacture the peanut butter, sold to institutions like schools and hospitals, said it would recall all King Nut and Parnell's Pride brand peanut butter. The company, based in Ohio, also said it would work with the manufacturer of the peanut butter, Peanut Corp. of America, to "inform others of this problem."

This particular outbreak of salmonella has been going on since last fall. The bacteria cause diarrhea, fever, and abdominal cramps and can lead to serious illness or death in young children, the elderly, and people with impaired immune systems. Here's how to reduce the risk of getting sick, based on advice from the Centers for Disease Control and Prevention and infectious-disease experts. Salmonella is one of the more common kinds of food poisoning. By being a smart shopper and taking some precautions in the kitchen, you can lower your family's risk of getting sick.
In a follow-up on the salmonella outbreak, Courtney Mills of the Injury Board has also published a review: "Salmonella Cases Tied to Tainted King Nut Peanut Butter". Other reports abound and among the best are "What Peanut Butter lovers Need to know about the Recent Salmonella Outbreak" by Jessica Smagacz, and "Salmonella Outbreak Linked to Peanut Butter" by Brian Smith.
To date I have not heard reports of the tainted King Nut peanut butter showing up in Hawaii. I am curious as to whether any Hawaii residents or any of our regulators at the Department of Health have determined in Hawaii residents are at risk.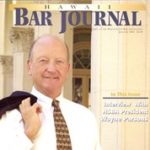 A resident of Honolulu, Hawaii, Wayne Parsons is an Injury Attorney that has dedicate his life to improving the delivery of justice to the people of his community and throughout the United States. He is driven to make sure that the wrongful, careless or negligent behavior that caused his clients' injury or loss does not happen to others.