I get regular health and fitness updates called Fit Tips from a specialist here in Honolulu named Christie Bridges. She sent one recently that I have quoted below involving injuries from falls. Here is her story.
"Every time I turn around lately, I've been reading an article on the subject of "falls." The latest was in the November/December, 2008, issue of AARP, The Magazine. According to AARP President, Jennie Chin Hansen, "Falls are the leading cause of both fatal and nonfatal injuries among older folks."
This is confirmed by ACE Certified News, April/May, 2008, "Helping Clients Find Their Balance" by Fabio Comana, M.A, M. S. over 33% of adults age sixty-five and older and more than 50% of adults age 75 and over will experience at least one fall per year; in 2006, falls were the leading cause of injury deaths and the most common cause of nonfatal injuries and hospital admissions for trauma in older adults.
"Exercise can reduce the risk of falls among older people by 33% or more, particularly exercises that build balance and lower body strength. This is particularly significant because, among older Americans, falls cause 95% of hip fractures, and are the leading cause of injury death. When it comes to strength, balance, and even cognitive functioning, the advice of the medical community is increasingly: Use it or lose it." This is a quote from the Instructor Manual for Silver & Fit, an exercise program for seniors designed by the National Academy of Sports Medicine for American Specialty Health.
Good balance is the result of sensory information and feedback as well as good motor responses, skills and coordination. Some things (age, for example) are out of our control, but the National Council on the Aging has identified four areas that can be addressed:
1) Medication management

2) Home safety

3) Environmental safety

4) Improving physical abilities through continued physical activity.
AARP adds one additional item—vision checks to ensure you have the proper prescription.
Dr's. Joannie Dobbs and Alan Titchenal of the University of Hawaii have identified another area that needs to be addressed: poor nutrition.
"Poor general nutrition causes a loss of overall strength and energy." (Health Options column, Honolulu Star-Bulletin, 2/7/09) "To keep muscles strong, it is important to maintain adequate protein intake along with regular physical activity."
They also emphasize the importance of getting enough vitamin D to keep the bones strong; iron to prevent dizziness; and vitamin B-12 for nerve health. Staying hydrated is also important.
If all this isn't enough to convince you that fall prevention is important consider that "the CDC predicts that the direct medical costs resulting from falls each year in this country will escalate from approximately $20 billion today to $54.9 billion by 2020. That's more than the current annual budget of the federal Dept. of Homeland Security!" (AARP)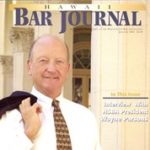 A resident of Honolulu, Hawaii, Wayne Parsons is an Injury Attorney that has dedicate his life to improving the delivery of justice to the people of his community and throughout the United States. He is driven to make sure that the wrongful, careless or negligent behavior that caused his clients' injury or loss does not happen to others.