How do you make Jones work you? If you are a "Jones Act" Seaman and you have been injured while working then the first step is file a complaint with the State or Federal Court for your employer's Jones Act negligence. Unlike land-based employees, Jones Act seamen are able to file a negligence claim against their employer for injuries, failing to provide a safe work environment, and for an unseaworthy vessel; a seaman's damages are not limited to worker compensation type damages. Worker's compensation damages only cover medical benefits and lost wages. However, a Jones Act seaman who proves his employer was negligent and caused his injuries can sue for both past and future lost wages, as well as for past/future medical care, past/future pain and suffering, mental anguish, and damages for losing the ability to enjoy life because the injury inflicted.
In addition to Jones Act claims, seamen may also file a claim for Unseaworthiness, in which they do not have to prove their employer's negligence in causing injury.
See: Unseaworthiness Claims: Overview
Under an unseathworthiness claim the seaman only has to show that the vessel was not seaworthy and that this caused his/her injuries. Unseaworthiness is a strict liability claim that is easier to prove, whereas proving the employer's negligence can be more difficult because it requires a seaman to prove his employer either knew or should have known about the condition before the injury resulted. Craig Smith's internet resources provide pretty good detail on these tort concepts in general:
Strict liability in tort is the concept that in certain situations a defendant is liable for plaintiff's damages without any requirement that the plaintiff prove that the defendant was negligent.
Nonetheless, a seaman is not required to prove both negligence under the Jones Act and Unseaworthiness in order to be able to recover damages. A seaman must only prove one.
Sometimes obtaining a recovery means that you must arrest the ship. An injured crew member can actually name the boat as a defendant "in rem" and actually have the boat arrested. In rem gives the court the ability to exercise power over the boat as property. In order for the ship to be arrested on behalf of an injured seaman, he/she must allege that his/her injury resulted from the unseaworthiness of the ship.
After a ship is arrested the employer or owner must file a bond with the appropriate court for the amount of the injured seaman's damages before his ship can be released. Whether or not the ship is insured determines whether or not arrest can occur. If the ship or vessel is inured then the insurance company is required to pay for the court determined damages.
The Jones Act and Passengers: The Jones Act does not apply to passengers on a boat/ship/vessel. However, its concept does apply to passengers. The concept is provided for in the Passenger Services Act (PSA), which came into effect in 1886. A claim by a passenger on a cruise ship, sightseeing tour or scuba diving excursion can be brought under general maritime and admiralty law. I will write separately about that subject.
If you have suffered an injury while at sea and think you may qualify as a seaman or have a claim of unseaworthiness against your employer then you should contact a qualified maritime lawyer to pursue your claim properly. Maritime and Admiralty claims are complex and should be handled by a qualified attorney who understands the intricacies involved in pursing such claims.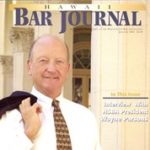 A resident of Honolulu, Hawaii, Wayne Parsons is an Injury Attorney that has dedicate his life to improving the delivery of justice to the people of his community and throughout the United States. He is driven to make sure that the wrongful, careless or negligent behavior that caused his clients' injury or loss does not happen to others.