We hear a lot of propaganda from medical professionals, insurance companies and politicians who try to place the blame for America's skyrocketing health care costs on the so-called medical malpractice "insurance crisis." They claim that patients who are injured by negligent doctors and their lawyers are responsible for driving up the costs of health care here in Hawaii and across the country. The media repeats the dire warnings from the doctors and the politicians who get lucrative campaign contributions from them. We routinely see news reports that if we don't place more and more restrictions on the legal rights of patients, doctors will stop practicing medicine.
Are the proponents of new restrictions on patients' rights telling us the truth? The answer is a definite NO.
Those who claim that medical malpractice insurance costs are driving up the costs of health care are actually misleading the American public. Hawaii has been subjected to these untruths by doctors who want laws passed that will allow them to injure patients through negligence and escape any responsibility.
According to an in depth analysis of this subject by consumer advocate Public Citizen the fact is that medical malpractice insurance costs nationwide in 2002, for instance, had only a minuscule impact on the cost of health care – less than one percent!
Medical malpractice expenditures comprise less than 1 percent of overall health costs. In 2002 health care expenditures rose 9.3 percent to $1.553 trillion. Yet expenditures on all malpractice premiums reported to the National Association of Insurance Commissioners (NAIC) that year were only $9.6 billion – making malpractice costs about .62 percent of national health care expenditures.
In Hawai`i, the total payments for medical malpractice insurance coverage were only 0.69% of our state's overall health care expenditures. Truth be told, even if medical malpractice litigation were completely eliminated, the resulting cost savings would have only the tiniest effect on health care spending. There is no legitimate basis for restricting the legal rights of people who are injured by negligent doctors. Doing so will not have any effect on controlling rising health care expenses.
The Public Citizen analysis of this subject explodes and exposes the fraud that doctors and their insurance companies are perpetuating on the public. Every politician and member of the public should have this book as a resource to understand health care in America: Jackson Williams, et al., PUBLIC CITIZEN, MEDICAL MALPRACTICE BRIEFING BOOK: CHALLENGING THE MISLEADING CLAIMS OF THE DOCTORS' LOBBY (2004).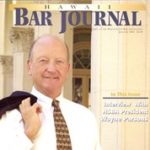 A resident of Honolulu, Hawaii, Wayne Parsons is an Injury Attorney that has dedicate his life to improving the delivery of justice to the people of his community and throughout the United States. He is driven to make sure that the wrongful, careless or negligent behavior that caused his clients' injury or loss does not happen to others.