Please vote for Doug Chin for Congress.
Doug Chin is not a professional politician. I am tempted to write that he is a "leader", but that doesn't really mean anything. It's a conclusion. It's what all of the politicians say about themselves. What has he done?
Doug Chin was an excellent Managing director for the City and County of Honolulu. That's a real job. You go to work every day and you have to make things happen in government for the people. It's a tough job because in this small state we never have enough money to do all the things we want to do. No one questions the hard work, local values and talent that Doug Chin put into that job. He got an A+ from everyone.
Doug Chin is a great lawyer. He is our former attorney general for the State of Hawaii. He took on the President of the United States over the travel ban. He has some guts. And he put together an excellent attack on what I personally believe was an unconstitutional deviation from what this country is all about. As a citizen he represented my values in that dispute. But he also demonstrated inside the courtroom.
Doug Chin knows the inside of a courtroom. Why should that be important to you or to me? Because the courthouse the peoples' part of the government. In the courthouses in America and in Hawai'i, the poeple can stand up to the powerful forces of government and corporations. Doug Chin stands among those lawyers who have taken cases into court to protect the individual from the abuse government power, the abuse of corporate power. That is important to all of us in Hawai'i.
I am not writing here about what you should "do" or "not do". i'm just telling you what I am going to do as a citizen.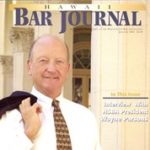 A resident of Honolulu, Hawaii, Wayne Parsons is an Injury Attorney that has dedicate his life to improving the delivery of justice to the people of his community and throughout the United States. He is driven to make sure that the wrongful, careless or negligent behavior that caused his clients' injury or loss does not happen to others.