It's not lawsuits that are a problem, it is big corporations and the insurance industry that want to deny justice to people hurt by wrongdoers.
The insurance industry, Chamber of Commerce, anti-consumer lobbyists and "tort reform" groups have spent millions of dollars to shield corporations that harm others from being held accountable. It's been a coordinated attack on the civil justice system as a whole, it's well documented, and candidly, it's worked.
Learn the truth and then join the fight to protect access to justice.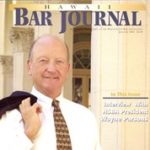 A resident of Honolulu, Hawaii, Wayne Parsons is an Injury Attorney that has dedicate his life to improving the delivery of justice to the people of his community and throughout the United States. He is driven to make sure that the wrongful, careless or negligent behavior that caused his clients' injury or loss does not happen to others.