No school bus automobile accidents all year and then two on one day late in May. Hopefully none of the eighteen students are seriously injured although they were taken to area hospitals for examination.
According to the report of the Honolulu Advertiser:
In the first accident, the bus collided with a car about 7:25 this morning at the intersection of Kaaholo and Leia streets in the Village Park area of Waipahu. Four of the students are in high school, while the remaining nine are in elementary school.

The second accident involved two buses. The second bus rear-ended the first and caused about 10 gallons of fuel to spill, said Honolulu Fire Capt. Terry Selig. None of the fuel went into the storm water run-off drain.
Bryan Cheplic, spokesman for the city Emergency Services Department, said seven of the students were taken to one hospital and six to another. Five more were taken to a area hospitals in the accident that occurred at 8:52 a.m. near the Waimalu offramp.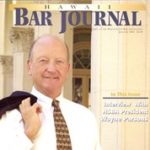 A resident of Honolulu, Hawaii, Wayne Parsons is an Injury Attorney that has dedicate his life to improving the delivery of justice to the people of his community and throughout the United States. He is driven to make sure that the wrongful, careless or negligent behavior that caused his clients' injury or loss does not happen to others.