After a 22 month old child died of strangulation, safety problems were identified leading to The Consumer Product Safet Commission has announcing a voluntary recall of over 9,000 LaJolla Boat Beds and Pirates of the Caribbean Twin Trundle Beds manufactured by Bayside Furnishings (a division of Whalen), of San Diego, California. The youth bed were sold at Costco and furniture retail stores nationwide as well as at Costco.com from January through May 2008 for between $700 and $1,400.
The lid on the chests can close too quickly because of a defective latch mechism, thus creating the hazard that a young child could be trapped and perhaps sttangled.
According to the recall a 22-month old child was strangled when the lid closed on his head trapping his neck on the edge of a LaJolla Bed and strangling him to death.
If you know anyone who owns this type of bed alert them that they should immediately have their children stop using it, and to contact the manufacturer Bayside Furnishings. They will ship a free repair kit and replacement lid supports. Bayside Furnishings can be reached at (877) 494-2536. This can also be done at their Web site where you can register to receive the free repair kit.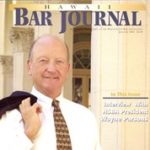 A resident of Honolulu, Hawaii, Wayne Parson is an Injury Attorney that has dedicate his life to improving the delivery of justice to the people of his community and throughout the United States. He is driven to make sure that the wrongful, careless or negligent behavior that caused his clients' injury or loss does not happen to others.