The Los Angeles Times (9/1, Hennigan) reports, "Toyota spent years concealing evidence from victims of hundreds of rollover accidents that resulted in death and injury, a former top lawyer for the automaker says." Dimitrios P. Biller of Pacific Palisades, "a former managing counsel for Toyota Motor Sales USA Inc., said in the suit that the company repeatedly forced him to illegally withhold information from opposing lawyers and made him resign in September 2007." In the July 24 lawsuit filed in federal court in Los Angeles, "Biller accuses the world's largest automaker of destroying data in more than 300 accidents that proved vehicle roofs were substandard." Clarence Ditlow, executive director of the Center for Auto Safety, "said that if what Biller says is true, the financial repercussions for Toyota could be massive."
Bloomberg News (9/1, Davidson) reports, "Toyota Motor Corp. may face demands that rollover-crash cases it won or settled be reopened, in light of accusations by a former company lawyer that the company hid records sought by plaintiffs." Mikal Watts, a lawyer in Corpus Christi, TX, said, "The petition alleges conduct by Toyota that would cause every case ever resolved by Toyota in the past 10 years to be re-opened," adding, "We intend to ask the courts to re-open these lawsuits."
In a blog at the New York Times (8/31), Christopher Jensen wrote, "In their own court filings, Toyota officials responded that Mr. Biller was a disgruntled employee with a vendetta against the automaker and a history of breaking his word, including a nondisclosure promise made when he left the company. Mr. Biller responded that he was not bound by that promise because the information he was disclosing involved crimes." Biller "was suing for wrongful termination, emotional distress that he said led to psychiatric problems and civil violations of the federal Racketeer Influenced Corrupt Organization Act."
Class-action filed. CBS News (8/31, Levin) on its website reported, "Toyota has been charged in a class action suit with illegally hiding evidence from plaintiffs in cases stemming from highway deaths and injuries across the U.S." The suit, filed in U.S. District Court in Los Angeles, "seeks to represent all plaintiffs who lost or settled cases in which Toyota allegedly concealed evidence. It was filed late Friday by lawyers for Bella Basco and Crystal Ennis, both of whom suffered catastrophic injuries in rollover wrecks when vehicle roofs collapsed."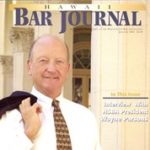 A resident of Honolulu, Hawaii, Wayne Parson is an Injury Attorney that has dedicate his life to improving the delivery of justice to the people of his community and throughout the United States. He is driven to make sure that the wrongful, careless or negligent behavior that caused his clients' injury or loss does not happen to others.