An article published in Laryngoscope, 2009 announces for the first time that researchers have investigated the possible thermal effects of microwaves from mobile phones on facial nerves (FN) and surrounding soft tissue in the face.
Two things were measured on 12 rabbits prior to them being exposed to emissions from a mobile phone.
The emissions are radiofrequency radiation (RFR). The temperature change in the soft tissues around the FN was investigated by a four channel Luxtron fiber optic system.
A mobile phone with 1900 MHz frequency was placed over the ipsilateral ear of the rabbit for 25 minutes, and FN and surrounding tissues were exposed to a 1.5 watts pulse modulated (217 packets/s) electromagnetic field. During exposure to RFR, immediately after turning off the mobile phone, and 25 minutes after the exposure, temperature change in the surrounding tissue of the FN was recorded and compared to preexposure values. Additionally, another recording regarding the FN functions was done and the data were compared to preexposure values.
The surrounding soft tissues were 0.7 degrees F higher in temperature than before cellphone exposure. The temperature returned to normal levels 25 minutes after the test. This is a statistically significant result. In addition:
The amplitudes of FN CMAP after radiofrequency radiation exposure were significantly smaller than the preexposure amplitudes and the amplitudes were normal in the 25 minute measurement.
The reaserch concludes that RFR emitted from a mobile phone can cause temporary FN dysfunction that can be due to temporary temperature increase in the soft tissue around the FN.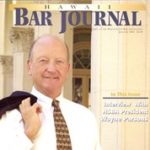 A resident of Honolulu, Hawaii, Wayne Parson is an Injury Attorney that has dedicate his life to improving the delivery of justice to the people of his community and throughout the United States. He is driven to make sure that the wrongful, careless or negligent behavior that caused his clients' injury or loss does not happen to others.