The Washington Post (5/6, Layton) reports President Obama "has tapped a politically skilled former schools chief from South Carolina to chair the Consumer Product Safety Commission and said he will boost funding at the agency, which has been struggling greatly with dwindling resources and leadership problems." Obama "nominated Inez Moore Tenenbaum, a lawyer who was elected by wide margins to two terms as South Carolina schools superintendent. She was an early Obama supporter who helped him win a bitterly fought presidential primary in her home state last year." Obama "also announced yesterday he was nominating Robert S. Adler for one of two additional seats on the commission."
The Wall Street Journal (5/6, A2, Trottman) reports the Obama Administration "will propose only a 1.9% increase in the agency's budget compared with Congress's appropriation under President George W. Bush." Obama's budget request "for the CPSC falls short of his campaign pledge to double the agency's funding from its 2007 level of $62 million." The New York Times (5/6, B3, Cooper) also covers the story.
Obama seen as replacing CPSC chief over drywall issue. The Southwest Florida's Herald Tribune (5/6, Kessler) reports, "President Barack Obama intends to remove the current chairwoman of the Consumer Product Safety Commission — an agency that has been criticized for its slow response to the Chinese drywall and other issues — as lawmakers look for another $2 million in emergency funding aimed at the growing problem."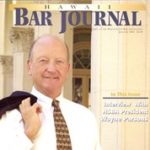 A resident of Honolulu, Hawaii, Wayne Parson is an Injury Attorney that has dedicate his life to improving the delivery of justice to the people of his community and throughout the United States. He is driven to make sure that the wrongful, careless or negligent behavior that caused his clients' injury or loss does not happen to others.