About 250 Hawai'i residents were infected with the hepatitis A virus last summer as a result of contaminated scallops consumed at Genki Sushi outlets. I have filed lawsuits on behalf of 16 victims some of whom were hospitalized and others who were treated on an outpatient basis. It is the hope that an early out-of-court settlement can be achieved in cases where . A large number of persons who were infected have not contacted a local law firm to represent them in recovering money damages for their illness. Of course that is perfectly okay and many people decide against getting involved in litigation for personal reasons or because they fear it will involve a long, drawn-out process. However in cases where the cause is very clear, it is not necessarily going to be a long and drawn out procedure. Often in these types of cases the defendants want to offer early and fair settlements to those affected and end the matter quickly. This particular type of claim can result in an out-of-court settlement in a short period of time if all sides are reasonable. That is because the State of Hawai'i Department of Health has determined the cause and traced it to scallops sold at Genki that were contaminated with hepatitis A. And often the defendants want to end the cases quickly and pay reasonable compensation to the victims because that is the right thing to do. I know that you don't read that often about "litigation" but it is true and these cases may fall into that category.
For those remaining victims who have not retained lawyers, they have up to two years to file their lawsuit from the dtae of their consumption of the scallops, or from the time of their exposure to a person who was infected with Hep A. The time to contact a lawyer, if a person wants to join in a possible early settlement of the cases is, ideally, now.
I have been involved in many other cases that have gone on for years and seem  to never end. These Hep A claims are not such a case. If you have questions about the Genki Sushi hepatitis A litigation I am a local lawyer handling those cases.
NOTE: This article constitutes advertising material about a case that I am handling.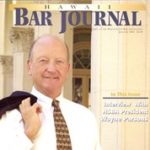 A resident of Honolulu, Hawaii, Wayne Parsons is an Injury Attorney that has dedicate his life to improving the delivery of justice to the people of his community and throughout the United States. He is driven to make sure that the wrongful, careless or negligent behavior that caused his clients' injury or loss does not happen to others.