I wrote extensively about the Chinese Drywall defects in homes throughout the Southeastern United States when the story broke earlier this year:
Drywall From China Causes Concern Over Sulfur Odor In Homes
The Sarasota (FL) Herald Tribune (9/4, Kessler) reports, "The number of Chinese drywall manufacturers responsible for corrosion and potential health problems plaguing U.S. homeowners may be about to increase substantially." On Thursday, lawyers involved in the case "revealed that 36 separate variations of tainted drywall have been found — a much higher number than previously disclosed." New players "revealed in photographs filed with the court show names such as Crescent City Gypsum Inc., International Materials Trading, ProWall and Dragon Brand Drywall." The disclosure came "as U.S. District Court Judge Eldon E. Fallon, who is overseeing the multidistrict litigation, warned one of the Chinese manufacturers already identified — Taishan Gypsum Co. Ltd. — that he would issue a default judgment if it did not respond in the case."
Don't confuse Chinese drywall with a great product called DRAGONBOARD®. I made the mistake of confusing the two earlier this year when I started investigating the Chinese drywall story: Chinese Drywall Is Not DRAGONBOARD®!
The story generated a lot of Comments and in the process some facts were not reported accurately. The main misunderstanding that I want to clarify here is that the product referred to as "Chinese Drywall" is not also called "DRAGONBOARD®" or other products identified as magnesium oxide board, MgO board or Mag board. There is no similarity between DRAGONBOARD® and the odorous Chinese drywall that has led to homeowner complaints throughout the Southeast states from Louisiana to Florida. I am including below the two Comments that mentioned DRAGONBOARD®.

The Comment by ManateeKnows is not correct that the offending "Chinese Drywall" is possibly DRAGONBOARD® of some magnesium-based product. The Comment by Bill Randy correctly points out that DRAGONBOARD® is a totally different product that doesn't smell, has never caused these types of problems and could not be the smelly "Chinese Drywall".

I have been in touch with Michael Di Raimondo, Director of Sales for DRAGONBOARD®-US in Edison, NJ. Mr. Di Raimondo kindly sent me samples of their product and invited me to smell it (no odor) and to put it in water (I did – it still doesn't smell and seems impervious to water). DRAGONBOARD® is waterproof and has been subjected to 36 months of freeze-thaw testing, it is UL fire rated and is ASTM D-5628 impact resistant. In addition it is silica/asbestos/formaldehyde free and thus a "green" product.. Mr. Di Raimondo describes DRAGONBOARD® as the "GREEN" construction panel of the 21st century. It looks like an excellent product.
Now a Judge plans Chinese drywall trials for January. The AP (9/3, Kunzelman) reported that U.S. District Judge Eldon Fallon, who is "presiding over hundreds of lawsuits against Chinese drywall makers and installers, said Thursday that he plans to hold the first trial in January for the cases." Fallon "told attorneys that he expects them to pick six plaintiffs whose cases could be tried in early 2010, with the first trial starting in January. Kerry Miller, a lead lawyer for companies named as defendants in the suits, said defense attorneys may need more time to prepare for the first batch of bellwether trials. Russ Herman, a lead plaintiffs lawyer, said he supports Fallon's scheduling plan." Herman "estimated that plaintiffs lawyers represent between 12,000 and 20,000 clients with claims."
I have no connection with Russ Herman but know him to be one of the great attorneys for consumers in the country. Seeing him involved gives me the feeling that a good result will follow for the beleaguered homeowners. I remember a young woman from Florida who called after she read my early articles on the subject. She was a single parent with two young girls and she was sick about her new home being full of sulfur odors and she worried about her daughters health. Her builder had left the area and was out of business and she was struggling with her mortgage payments. Since I am in Honolulu and only do construction defects cases in Hawaii, I could only try to help her find an attorney in the Southeast. I hope she found Russ Herman. Then I know that she will be okay.
The serious question here is whether the Chinese manufacturer will come to the U.S. to pay for the injury and loss caused by this product? Our government allows these foreign manufacturers to make profits in the U.S. but does not require them to submit to our courts when their products cause injury.
Two New Reports Analyze Cost to the Country for Dangerous Products and the Problem With Foreign Manufacturers
I have a big problem with that because we are being bombarded by foreign products and many are inferior and unsafe.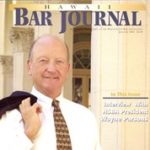 A resident of Honolulu, Hawaii, Wayne Parson is an Injury Attorney that has dedicate his life to improving the delivery of justice to the people of his community and throughout the United States. He is driven to make sure that the wrongful, careless or negligent behavior that caused his clients' injury or loss does not happen to others.