Hawaii has suffered from contamination of ground water by pesticides in the past and the water system is always at risk from pesticides. In the early 1990's the University of Hawaii studied 40 common pesticides in the water system. Their focus was on comparing pesticides for leachability, recharge rates and depth to water. Hawaii soils are unique and so the research top EPA registered pesticides and studied their behavior in Hawaii soils.
Pesticide manufacturers constantly bring new products to market and exert considerable pressure to bring them to Hawaii. The Hawaii water system is vulnerable to contamination and the historical problems associated with pesticides and cancer raise a great concern about the effects on the public. Since problems from exposure to pesticides usually show up years or even decades after the exposure, the products can be marketed and it is extremely difficult to assess cancer deaths in the distant future. Chlordane and Dursban, the most popular termite pesticides caused huge numbers of cancer deaths but were used without concern for many years. It was only after the harm was done that they were removed from the market. The pesticide manufacturers make billions of dollars and usually escape any financial responsibility. And of course a childhood cancer cannot be ever corrected with money.
In the UH study 3 herbicides, 1 fungicide and 1 insecticide were tested in one phase. Atrazine and bromide ions were used as chemicals in the leaching investigation. Undisturbed soil monoliths were collected from the Poamoho experimental site (Oahu, Hawaii) and soil cores were taken by inserting a stainless steel cylinder into the soil using a hydraulic jack. The resaerch helps Hawaii regulators understand the risk of pesticides to the Hawaii water system.
The fragile water system in Hawaii coupled with the unique nature of Hawaii soils make this ongoing effort important to future generations and particularly to young children.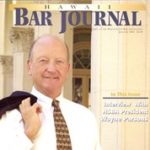 A resident of Honolulu, Hawaii, Wayne Parson is an Injury Attorney that has dedicate his life to improving the delivery of justice to the people of his community and throughout the United States. He is driven to make sure that the wrongful, careless or negligent behavior that caused his clients' injury or loss does not happen to others.