Talcum powder and ovarian cancer is in the news:
If you have ovarian cancer or primary peritoneal cancer you don't care about lawsuits. You care about cures. I've been there. I know.
The good news is that in the past twelve months there have been major new treatments for women with ovarian cancer, primary peritoneal carcinamatosis and other variations of those deadly diagnoses. The "measles virus" vaccine at the Mayo Clinic and the TPIV 200 vaccine at Memorial Sloan Kettering Cancer Center (MSKCC) are showing spectacular results in women who were given little hope for survival. The CD47 treatments at Stanford are also very encouraging. Hawai'i women with ovarian cancer or primary peritoneal carcinamatosis should register at the Mayo Clinic and at MSKCC for these treatments. These centers, Mayo and MSKCC want you to call them and they will be happy to evaluate your cancer to see if they can help. If your oncologist is resistant to this, do it on your own. Valerie died because doctors didn't tell us about cures that were available to her at "other" cancer centers. You must ask hard questions. Call me ( 808-753-0290 ). Not about a lawsuit _ although I can do that _ but about surviving.
"Why me" is always a question, isn't it. Recently the answer to that question for women with a recent diagnosis of ovarian cancer has been Talcum Powder or "Talc". It isn't recent news. In 1971 the Talc manufacturers knew that there was a link between their product and cancer: In Talc and carcinoma of the ovary and cervix, Henderson WJ, Joslin CA, Turnbull AC, Griffiths K. (PMID: 5558843) (1971) the association between Talc and cancer was first identified. This is not new. 1971. 1971. 1971.
What did the Talc manufacturers do about it? They did what big corporations do: cover it up. Like the NFL cover-up of concussions and the Catholic Church cover-up of clergy sexual abuse and a long list of cover-ups, the Talc manufacturers denied _ and continue to deny _ that their very profitable product is causing cancer. As the great book Merchants of Doubt explains, the corporate reaction to these human disasters is to hire scientists who will write reports disputing the cause of the cancer and then lobby the pro-business legislators, usually Republicans, to get protections from lawsuits.
Lawsuits are being filed for women who are dying of ovarian cancer. Those lawsuits will not cure their cancers. The lawsuits are important to reign in the corporate abuse that is rampant in Big Pharma and Big Medicine.
Hawai'i women with ovarian cancer need something now. Not a Judgement from a lawsuit. They need a cure or at least a delay. The lawsuit would be a small token to the family. So if you have an ovarian cancer diagnosis go to Mayo and MSKCC and apply for their treatments. Call me if you are worried about who will pay for the treatments or how to do it. My cellphone is 808-753-0290.
My beautiful wife and partner Valerie Lum died of cancer in 2008. I know how it feels when the doctor tells you that there us no hope. There is hope. Hope dies last.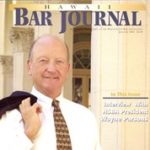 A resident of Honolulu, Hawaii, Wayne Parsons is an Injury Attorney that has dedicate his life to improving the delivery of justice to the people of his community and throughout the United States. He is driven to make sure that the wrongful, careless or negligent behavior that caused his clients' injury or loss does not happen to others.