Toxic chemicals in consumer products are a major fear because they get into the poeple who use them. Three members of Congress have introduced legislation to help insure that chemicals are safe before they come to market.
The current Toxic Substances Control Act, unchanged since 1976, approves most new chemicals with little or no safety testing. Over 62,000 existing chemicals are on the market now and have remained on the market for 30 years despite evidence that some pose serious health risks. The Kid Safe Chemicals Act, by Sens. Frank R. Lautenberg (D-NJ) and Barbara Boxer (D-CA), and Reps. Hilda Solis (D-CA) and Henry Waxman (D-CA) would place the burden of proof on the chemical industry to show that chemicals are safe for children before they are added to consumer products.
"When babies come into this world pre-polluted with hundreds of dangerous industrial chemicals already in their blood, it's clear that the regulatory system is broken," said Ken Cook, president of Environmental Working Group (EWG). "The Kid Safe Chemicals Act will change a lax, outdated system that presumes chemicals are safe into one that requires makers of toxic chemicals to prove their safety before they're allowed on the market."

"This bill is a long-overdue move to put public health ahead of chemical industry profits," Cook added. "We thank Sen. Lautenberg, Chairman Boxer, Rep. Solis and Chairman Waxman for their leadership."
A coalition of grassroots, state and national organizations led by EWG sent a letter to the lawmakers today applauding their action and pledging support as the work begins to make this legislation law. The letter and a list of organizations that signed on.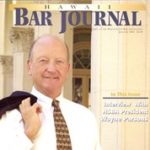 A resident of Honolulu, Hawaii, Wayne Parson is an Injury Attorney that has dedicate his life to improving the delivery of justice to the people of his community and throughout the United States. He is driven to make sure that the wrongful, careless or negligent behavior that caused his clients' injury or loss does not happen to others.