The Wall Street Journal (12/30, Prada) reports, "A federal judge on Monday denied class-action status to thousands of hurricane victims seeking damages for alleged exposure to a toxic chemical while living in emergency housing provided by the federal government after deadly Gulf Coast storms in 2005." The "victims of hurricanes Katrina and Rita…have filed hundreds of lawsuits over the past three years against the federal government and dozens of manufacturers of mobile housing trailers" and "the complaints allege that formaldehyde in units supplied to them as temporary shelter made them sick." Since there were common issues in the cases, the federal court system attempted "to consolidate the cases in one court" however, "the judge found that the number of plaintiffs and multiple defendants, as well as varying state laws and legal issues related to trailer types and differing formaldehyde levels, made it impossible for the cases to be consolidated." Now, "plaintiffs' said they are disappointed by the ruling, but not surprised considering the number and variety of the cases alleging formaldehyde-related ailments. Because a single court will still exist to address common issues among many of the suits, they said, attorneys will focus on finding so-called bellwether cases that can help set precedents for settlements with plaintiffs filing similar claims."
The AP (12/30, Kunzelman) reports, "Lawyers for the storm victims accuse trailer makers of using shoddy materials and building methods in a rush to meet the government's demand for emergency housing for the displaced." Meanwhile, "Tony Buzbee, one of the lead lawyers for plaintiffs, said he respects the judge's decision but hasn't ruled out an appeal." The Minneapolis Star Tribune (12/30) also covers the story.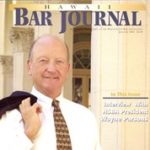 A resident of Honolulu, Hawaii, Wayne Parson is an Injury Attorney that has dedicate his life to improving the delivery of justice to the people of his community and throughout the United States. He is driven to make sure that the wrongful, careless or negligent behavior that caused his clients' injury or loss does not happen to others.