My office has been involved representing many local residents in the Genki Sushi Hep A outbreak since last summer. This Alert is to help those who were vaccinated last year, know that they need to get a second dose of Hep A vaccine. There is more to being a personal injury lawyer than money. Nothing is more important to me than my clients' health and welfare. And it is the same even if you are not my client but had Hep A.
As the first round of case settlements are being completed for local folks who hired me to represent them for the Hawai'i Genki Sushi Hep A outbreak from last summer, the Hawai'i Department of Health (DOH) reminded the 90,000 Hawai'i residents who got HEP A vaccinations last year that is now time to get the important second dose in order to be fully protected:
In August 2016, the Hawai'i Department of Health (DOH) identified raw scallops imported from the Philippines as the source of an outbreak of hepatitis A that sickened hundreds of Hawai'i residents. At the time of the outbreak, over 90,000 Hawai'i residents sought to protect themselves by getting vaccinated for hepatitis A between July and November 2016.

Although one dose of the hepatitis A vaccine provides good protection, a second dose is necessary to provide full protection. The second dose must be received at least six months after the first dose. DOH is recommending those who are due for their second dose of the hepatitis A vaccine contact their healthcare provider or pharmacy to schedule a vaccination appointment.
The DOH announcement also includes a way for the public to locate a place that has the vaccine: " To locate a vaccinating pharmacy or clinic near you, view the Vaccine Locator or call the Aloha United Way information and referral line at 2-1-1. Learn more about Hepatitis A."
It is important not to forget about the need for a second vaccination dose for better Hep A immunity. For the 150 local folks who got Hep A and didn't hire a lawyer to seek monetary compensation, that is your right to decide, but please het the second vaccination! You MUST do that for your health!
Although TV news reports mentioned a mainland lawyer who settled cases last week, my office and other local Hawai'i lawyers with cases also settled their cases. All but one of my cases in this first week of settlement negotiations were resolved as part of the same process. The settlements are a part of a voluntary mediation organized by the insurance companies for the importers of the scallops and Genki Sushi whose (admirable) goal is to put the matter behind them and take care of Hawai'i residents who suffered through Hep A illness after eating scallops at Genki. These cases are the model of how good businesses take responsibility for those they harm. It is also a good model of how the Justice system works at its best. Not the long drawn out litigation that drags on for years with the injured victims being subjected to drawn out legal proceedings. The lawyers on both sides of the case have been excellent and have cleared away obstacles to get an early resolution of the claims.
When I was first hired by Hawai'i residents last summer, many asked about whether bringing a claim would hurt local businesses like Genki Sushi. The answer is "no". Genki Sushi was not aware of the tainted scallops when they served them to unsuspecting customers and although involved in the settlement process is it is the insurance companies that are primarily involved. The importer of the scallops is also involved in the settlements, not just Genki Sushi. Both Genki and the Hep A patients were both victims. Hawai'i can look at Genki Sushi as a good local business that put its customers first and is taking partial responsibility for the illnesses that it's customers suffered. Hopefully Genki Sushi will be rewarded for being accountable and taking responsibility for this unfortunate incident by having loyal customers return as patrons. That is the way things are done in Hawai'i. No local business is being put out of business in these quick settlements that are avoiding the humbug of litigation that often goes on for years.
Over 150 local residents who got Hep A from the Genki Sushi outbreak have not yet hired a lawyer to bring their claims and receive compensation for their Hepatitis A illness. They should do so now. There is still time to do so and the process is simple. The time to bring claims is generally two years from the date that Hep A was diagnosed. To get an exact date have a Hawai'i lawyer advise you after investigating the facts of your situation.
Another round of settlements is scheduled for October.
If you or someone you know was diagnosed with Hep A associated with the Genki Sushi outbreak last year, and have not spoken with a local Hawai'i lawyer to understand your rights and the claims process you can contact my office or call me personally (808-753-0290 cell) to understand your rights and then decide if you wish to proceed with a claim. The call is free and it is always good to know your rights, and then decide what to do.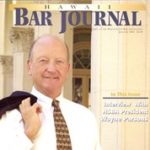 A resident of Honolulu, Hawaii, Wayne Parsons is an Injury Attorney that has dedicate his life to improving the delivery of justice to the people of his community and throughout the United States. He is driven to make sure that the wrongful, careless or negligent behavior that caused his clients' injury or loss does not happen to others.