With news of a possible outbreak of Hepatitis A illness from contaminated Ahi here are some things to do:
Fever
Fatigue
Loss of appetite
Nausea
Vomiting
Abdominal pain
Dark urine
Clay-colored bowel movements
Joint pain
Jaundice
Check the Department of Health website for updates and Frequently Asked Questions.
Do not have physical contact with anyone who has Hep A, or consumed Ahi from the listed stores during the April time period.
Check the Center for Disease Control (CDC) website which is also following the contamination.
Call my office if you have questions about the legal rights of a person who has contracted Hep A from contaminated Ahi. It is free to call and once you understand your rights and legal options you can decide whether or not you want to do something legally. Knowing your rights is always a good thing. And its free so why not? My office will not do anything to harm the local businesses involved. They are victims of the contaminated products that they purchased. Legal cases arising out of food illnesses are covered by insurance policies that the importers purchase to protect consumers from negligent but unintentional contaminations.
How big a problem this contamination will be is unknown. Many persons are protected because they have been vaccinated. After the Genki Sushi Hep A scallop outbreak last summer many Hawai'i residents got vaccinations. It appears that this outbreak involves 750 pounds of Ahi. That's a lot of Ahi!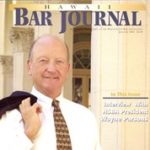 A resident of Honolulu, Hawaii, Wayne Parsons is an Injury Attorney that has dedicate his life to improving the delivery of justice to the people of his community and throughout the United States. He is driven to make sure that the wrongful, careless or negligent behavior that caused his clients' injury or loss does not happen to others.