Benefits of breastfeeding outweigh risks of infant exposure to environmental chemicals in breast milk. As reported in Science Daily on December 20, 2008 a new study compares infants who were breastfed with formula fed infants. The study showed that over time the known beneficial effects of breastfeeding are greater than the potential risks associated with chemical exposure to infants from dioxins that may be present in breast milk.
This was an important study which involved a historical review of medical literature and focused on time periods when environmental chemical levels were higher than they tend to be at the present. Judy LaKind, Ph.D. (LaKind Associates, Catonsville, Maryland) along with Cheston Berlin, Jr., M.D. (The Milton Hershey Medical Center, PA), and Captain Donald Mattison, M.D. (National Institutes of Health) collaborated on the report which concluded that healthcare providers should be advised to encourage new mothers to breastfeed their babies. The current study is in agreement with the World Health Organization's (WHO's) position supporting breastfeeding.
The current study is based upon epidemiologic data and does not ignore the adverse effects of dioxin exposure or exposure to other environmental toxins in breast milk. However a statistical significance of risk/benefit assessment in an individual, compared to population effects is distinguished.
"When breast milk was chosen by regulatory agencies as a handy medium for measuring environmental toxins, the public became alarmed that breast milk was contaminated. The authors, eminent authorities on the subject can put these fears to rest", says Ruth A. Lawrence, M.D., editor-in-chief of Breastfeeding Medicine, from the Department of Pediatrics, University of Rochester School of Medicine and Dentistry.
The full report "The Heart of the Matter on Breast Milk and Environmental Chemicals: Essential Points for Healthcare Providers and New Parents", Breastfeeding Medicine, December Issue (Volume 3, No. 4).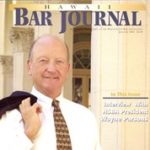 A resident of Honolulu, Hawaii, Wayne Parson is an Injury Attorney that has dedicate his life to improving the delivery of justice to the people of his community and throughout the United States. He is driven to make sure that the wrongful, careless or negligent behavior that caused his clients' injury or loss does not happen to others.