I didn't believe it when I read it: Forbes Magazine Calling for More Tort Lawyers? by Dan Firth. Wait!? That can't be true. That's like the Red Sox holding an appreciation day at Fenway for Yankee fans.
Dan Firth is a prominent tort lawyer in Roanoke, Virginia. I figured that he must be playing a late April Fools joke on us all. Forbes Magazine hates tort attorneys I am sure. But then I followed the link and there it is:
Forbes Magazine

Needed: Tort Lawyers
William Baldwin 05.11.09
Hawaii must get a load of this.
Forbes is saying that Campylobacter, escherichia, salmonella, listeria make it:
"very dangerous to put things in your mouth. Foodborne illness sickens 76 million Americans a year, kills 5,000 and runs up $3 billion in hospital costs. What's the answer to this epidemic?

One possible solution is more government and more laws. Those familiar with the proclivities of this magazine will not be surprised that I take a dim view of this solution (and, in particular, of the proposed Food Safety Modernization Act, which would bury food preparers in paperwork). No, I would prefer to have the same government and the same laws, but–here's the surprise–more tort lawyers.
There you have it: more tort lawyers. Last sentence. Forbes finally gets it. Trials in court rooms across the country do a better job, in many (not all) instances that government regulators who are tied to some political agenda.
Although the article takes a shot at the very small group of attorneys who do asbestos claims for shipyard workers, they have decided that food safety is is another matter:
But it's a different story in the narrow specialty of food-poisoning litigation. There the science is sound. The typical plaintiff is the family of a child whose kidneys and other organs were damaged (in some cases fatally) by an E. coli infection. The link from the culprit food to the injured child is made unmistakable by genetic subtyping. The lawyer's main task is to argue over how much the kid's life is worth.
Forbes then gives a round of applause to trial attorney William Marler. Mr. Marler takes on big companies that sell regular folks food that sometimes is contaminated and makes the consumer sick. How sick? One of Marler's first cases was for a woman who lost her large intestine after eating a contaminated meal at Jack in the Box. Rather than begrudge the fact that Marler and his law partners have made a hefty profit in advocating for consumers, Forbes stays true to the small business mantra of free enterprise:
The settlements get the attention of food producers. Bill Marler is not shy about using the Web, press releases and Capitol Hill testimony to publicize what he's doing.
In the end Forbes sides with the marketplace and corporate responsibility is best resolved in Forbes eyes in the courtroom when food safety is the issue. You poison you pay. That is simple:
Government inspectors are on duty only some of the time, as we know from the Peanut Corp. of America fiasco. But the marketplace is a constant enforcer. Lawsuits do their part, along with the cost of recalls and the damage to brand names, to keep food companies alert. If it's expensive to make mistakes, more money will go into the detection and prevention of microbes. Entrepreneurs will find opportunity here.
For many years I have pointed to my profession – tort attorney for consumers – as the ultimate small business. I don't get paid unless my client gets paid. I advance the costs because my clients are hurt and often out of work. The opponent is a huge insurance company with unlimited resources and smarmy attorneys and claims adjusters. Tort lawyers often sweat the rent and payroll waiting forever for the cases to resolve and getting paid.
Thanks Forbes. You rock. And to Willam Marler, keep up the trail blazing work for injured consumers, and thanks for what I know has been a huge amount of high stress and expensive litigation. If it weren't for you the country would not be as safe as it is.
Aloha from Hawaii!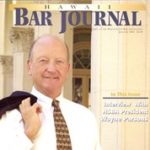 A resident of Honolulu, Hawaii, Wayne Parson is an Injury Attorney that has dedicate his life to improving the delivery of justice to the people of his community and throughout the United States. He is driven to make sure that the wrongful, careless or negligent behavior that caused his clients' injury or loss does not happen to others.