Background of the Opioid Crisis
The opioid epidemic is a nationally recognized epidemic caused by opioid overprescribing. The consequences of the opioid epidemic transcend party lines, socioeconomic lines and racial lines. Opioid abuse is now the leading cause of death for those under age 50. The CDC reports that the national loss exceeds $74 billion: $42 billion in lost productivity, $26.1 billion in health insurance costs, $7.6 billion in criminal justice costs, and $2.8 billion in substance abuse treatment costs. Many of these costs have fallen on financially burdened counties, cities and municipalities. The opioid epidemic is creating pressure on healthcare facilities as well as law enforcement agencies, resulting in rising costs, a strain on resources, and concerns about public safety. It has only grown worse as people who were addicted to prescription pills have, thanks to heightened enforcement efforts, found them harder to come by—many of those already addicted or dependent have turned to street drugs like heroin.
The residents of these communities have been forced to bear the burden of the costs of the epidemic, as the costs of treatment for addiction, education, and law enforcement programs continue to skyrocket. And yet the financial burden borne by communities across the country pales next to the loss of life: there were 165,000 overdose deaths related to prescription opioids from 1999-2014.
Below is an attempt to provide those caught-up in this crisis of substance abuse with helpful information intended to improve the treatment they receive and the battles they face.  As a lawyer I want to offer my services to the State, County and unions that have and forced to spend hundreds of millions of taxpayer dollars as a result of addiction. But equally important to this lawyer is to educate those swept up in this health crisis about how to find a way through their illnesses. Many of these members of the Hawai'i community ae also disabled and face daunting problems from many directions. Tis article is dedicated to the people of Hawai'i.
The "Overdose Response Guide" provides information on awareness, prevention and preparedness for caregivers of addicts:
A caregiver's responsibilities can cover a variety of duties, from to assisting with daily tasks to transportation to administering medical care. When your patient is a recovering addict, a caregiver must make additional considerations for well-rounded care and be prepared for anything — including an overdose. Even those who have been sober for many years can face temptation and lingering impulses, and in the case of an overdose, mere seconds can be the difference between life and death. It's crucial that caregivers not only take active steps to keep their charge on the sober path, but that they will be able to respond to an overdose situation instantly.

This guide will help caregivers understand how to best support their patients' addiction recovery, and give instruction on how to act in the event of an overdose. People with disabilities not only face a unique crisis when it comes to addiction in general, but there may be specific challenges stemming from their condition if an overdose occurs. A caregiver's strongest allies will be awareness, prevention, and preparation — as well as a consultation with your charge's physician.
At the website for this resource, a discussion of opiate relapse is provided:
A relapse is one of the harsh possibilities faced during opioid addiction recovery. Knowing the signs of an opioid relapse can help prevent it from happening.

Understanding Opioid Relapse

An opioid relapse is defined as returning to use of an opioid after a period of abstinence. Opioid relapses are common though, and happen to many people in recovery, but their also dangerous. Recovery from opioids involves a life that is free from opioids abuse, but because opioids are so addictive, quitting them can be very difficult.

Many people are faced with an uncontrollable urge to use opioids after they stop, especially while in early recovery. The trouble is that even people with years of sober time may slip-up, and use opioids. Due of the nature of addiction, certain triggers, or old habits can make opioids a lifelong struggle.
Substance Use Disorder Treatment For People With Physical and Cognitive Disabilities, Treatment Improvement Protocol (TIP) Series, No. 29  provides help improving treatment for people with both a physical or cognitive disorder and a substance use disorder.
This TIP, Substance Use Disorder Treatment for People With Physical and Cognitive Disabilities, is intended to enhance treatment providers' knowledge concerning people who have a physical or cognitive disability in addition to their substance use disorder. Treatment programs for substance use disorders already see many individuals with coexisting disabilities, but many providers fail to accommodate these individuals either because they are unaware of the disability or how accommodations can improve treatment outcomes (even though such accommodations are legally mandated).
This material from The Center for Substance Abuse Treatment and the Substance Abuse and Mental Health Services Administration (US) is an important tool for treatment providers and families of affected individuals.
The Comprehensive Guide to Home Accessibility for People with Disabilities in Recovery  covers a myriad of practical issues facing people with disabilities in recovery:
More than 20 million Americans suffer from addiction and substance abuse, and that number includes people with and without disabilities. Sometimes, the stress of living life with a mental or physical disability spins you downward into addiction. This can seriously compound the health issues you are already dealing with. For example, alcoholism can cause chronic bladder infections, which is already common in people with spinal cord injuries. With issues finding employment, social isolation and limited mobility, it's not surprising that 50 percent of people with spinal cord injuries deal with alcoholism.

In other situations, however, the consequences of the alcohol or substance abuse can cause a physical impairment. For example, heroin use can lead to permanent loss of vision, and long-term intravenous drug abuse can lead to painful septic arthritis, both of which can severely limit mobility. Medications for arthritis should never be mixed with alcohol, nor should many of the common medications prescribed to people with a variety of disabilities.

If your disability — from cognitive to physical — arose after seeking help for your addiction, you may not be aware of important home modifications you need in order to be comfortable and confident during recovery. If your disability affected life for you before addiction, adding recovery-minded elements to your modifications can help you live an independent, sober life. Here are four ways you can mix modifications to support both mental and physical health.
In Substance Abuse and Physical Disability (Haworth Addictions Treatment) 1st Edition by Bruce Carruth (Author) fills a gap in the literature available on both physical disability and substance abuse. As the Amazon review of the book notes
Substance Abuse and Physical Disability brings together these topics to provide readers with the vital information necessary to understand the significant challenges, risks, and threats that substance abuse and chemical dependency pose for the physically disabled. This seminal book provides the materials needed by professionals to understand the context of substance abuse in the lives of persons with disabilities, identify chemical dependency problems, and implement effective treatment strategies. Covering an important but often overlooked area, this book enables rehabilitation professionals to treat their substance abusing clients more effectively.
The book is a resource not only for rehabilitation professionals but also families of those suffering from this dual problem.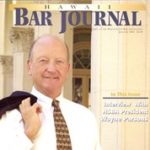 A resident of Honolulu, Hawaii, Wayne Parsons is an Injury Attorney that has dedicate his life to improving the delivery of justice to the people of his community and throughout the United States. He is driven to make sure that the wrongful, careless or negligent behavior that caused his clients' injury or loss does not happen to others.