What causes high premiums for doctors' malpractice insurance? The insurance industry would have you believe that the cause is the legal system. The truth is that insurance company investment practices are the cause. Americans for Insurance Reform – one of the leading consumer advocates for regular people not the privileged and powerful, has issued a series of fact sheets on these tort reform myths:
INSURANCE INDUSTRY'S INVESTMENT PRACTICES –
NOT THE LEGAL SYSTEM –
CAUSE HIGH MALPRACTICE INSURANCE COSTS
Here are the facts, not the insurance industry hype:
THE INSURANCE CYCLE, NOT THE LEGAL SYSTEM, DRIVES UP RATES
The facts produced by Americans For Insurance Reform are devastating to anyone who cares about the truth – journalists and elected politicians, are you listening and reading and thinking? The fact is that insurance company insiders have agreed:
Victor Schwartz, General Counsel, American Tort Reform Association: "Insurance was cheaper in the 1990s because insurance companies knew that they could take a doctor's premium and invest it, and $50,000 would be worth $200,000 five years later when the claim came in … An insurance company today can't do that." Honolulu Star Bulletin, April 20, 2003.

National Underwriter: Standard & Poor's Rating Service in London, recognizing problems created by "historic highs and lows of cyclical underwriting," is calling for the industry to change its underwriting practices. S&P's Christian Dinesen says, "A less cyclical insurance market would be revolutionary for the industry, with such fundamental change promising a more stable underwriting environment." National Underwriter Online, October 29, 2002.

Wall Street Journal: "[A] price war that began in the early 1990s led insurers to sell malpractice coverage to obstetrician-gynecologists at rates that proved inadequate to cover claims.… Some of these carriers had rushed into malpractice coverage because an accounting practice widely used in the industry made the area seem more profitable in the early 1990s than it really was. A decade of short-sighted price slashing led to industry losses of nearly $3 billion last year." Wall Street Journal, June 24, 2002.

Donald J. Zuk, chief executive of Scpie Holdings Inc.: "I don't like to hear insurance-company executives say it's the tort system – it's self-inflicted." Wall Street Journal, June 24, 2002.

Charles Kolodkin, Gallagher Healthcare Insurance Services: "The [medical malpractice insurance] market is in chaos…Throughout the 1990s…insurers were…driven by a desire to accumulate large amounts of capital with which to turn into investment income. Regardless of the level of…tort reform, the fact remains that if insurance policies are consistently underpriced, the insurer will lose money." "Medical Malpractice Trends?", September 2001.

National Association of Attorneys General: "The facts do not bear out the allegations of an 'explosion' in litigation or in claim size, nor do they bear out the allegations of a financial disaster suffered by property/casualty insurers today. They finally do not support any correlations between the current crisis in availability and affordability of insurance and such a litigation 'explosion.' Instead, the available data indicate that the causes of, and therefore solutions to, the current crisis lie with the insurance industry itself." Analysis of the Causes of the Current Crisis of Unavailability and Unaffordability of Liability Insurance, Ad Hoc Insurance Committee of the National Association of Attorneys General, May 1986.

Maurice R. Greenberg, them President and CEO of American International Group, Inc. – AIG: "The industry's problems were due to price cuts taken 'to the point of absurdity' in the early 1980s. Had it not been for these cuts, Greenberg said, there would not be 'all this hullabaloo' about the tort system." Business Week, March 31, 1986.
The tort reform movement is brought to you by the insurance industry – AIG and the same band of scoundrels who took Wall Street down with their financial misconduct and accept your premiums and deny your claims. Do you believe the falsehoods they spread? And where is our news media on these issues. The truth is easy to prove. Does Major media care about anything but ratings and getting sponsors? The news? Oh, that. Who cares. So you have to get it here and on The Daily Kos, The Huffington Post and The Injury Board. Americans For Insurance Reform are just getting into the fray. They are great at documenting the truth. Go to their website and support them. They make a difference in breaking down these insurance company tactics.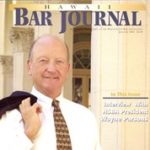 A resident of Honolulu, Hawaii, Wayne Parson is an Injury Attorney that has dedicate his life to improving the delivery of justice to the people of his community and throughout the United States. He is driven to make sure that the wrongful, careless or negligent behavior that caused his clients' injury or loss does not happen to others.