The Wall Street Journal (5/2, A3, Weisman, Bravin) reported, "The battle to influence the next Supreme Court pick began Friday as President Barack Obama announced that Justice David Souter would retire at the end of the current term." The President said "he would seek a nominee with 'a record of excellence and integrity…who understands that justice isn't about some abstract legal theory or footnote in a case book" and "someone attuned to the 'daily realities of people's lives' — a sentiment conservatives have seized upon as a prescription for what they consider to be unwarranted judicial activism." Among the choices, "court observers predicted Mr. Obama would select a woman, and several emerged as contender." They are: "Judge Sonia Sotomayor, who sits on the Second Circuit U.S. Court of Appeals…two other appellate judges, Kim Wardlaw and Diane Wood, were also mentioned, along with Solicitor General Elena Kagan, a former Harvard Law School dean; Homeland Security Secretary Janet Napolitano, a former federal prosecutor; and Stanford University law Prof. Kathleen Sullivan."
Bloomberg News (5/3, Stohr, Seeley) reported, "President Barack Obama, weighing advice from both the left and right on his first Supreme Court choice, is likely to seek a judicial version of himself: a moderate coalition-builder." At this point, "the most discussed possibilities — federal appeals court judges Diane Wood and Sonia Sotomayor and U.S. Solicitor General Elena Kagan — are well-credentialed lawyers whose records suggest they would become moderate-to-liberal justices." Bloomberg adds, "Choosing a relative moderate would square with Obama's campaign promise not to seek Supreme Court 'activism,' while leaving open the possibility of a bolder nomination for a future vacancy." The New York Times (5/2, A1, Liptak) also covered the story.
In an op-ed in the New York Times (5/2, A21) Jeffrey Rosen, a law professor at George Washington University, wrote, "In choosing a successor to Justice Souter, President Obama, who seems to have done his best to do the opposite of what President George W. Bush would have done in the same circumstances, should now emulate his predecessor" and pick "not the most experienced or demographically appealing candidate, but the one whose views and intellectual ability are clearest, and whose judicial philosophy and temperament suggest the greatest potential for liberal leadership on and off the court." He concluded that "Obama's focus should be on the candidate with the clearest and most galvanizing judicial philosophy, the greatest intellectual ability and the temperament that makes it most likely she (and the first nominee should be a she) can both challenge and persuade her conservative colleagues and ultimately transform the court."
Obama pick expected to have Chicago ties. The Chicago Tribune (5/3, McCormick, Coen) reported, "Ever since Barack Obama's election as president, there has been anticipation among scholars at the University of Chicago's Law School that one of their own could be headed to the U.S. Supreme Court bench in the next few years." The Tribune adds that "almost every short list of possible nominees to succeed Justice David Souter includes three individuals with strong ties to the Hyde Park law school: U.S. Appeals Court Judge Diane Wood, Obama regulatory czar Cass Sunstein and U.S. Solicitor General Elena Kagan." Also, "even if Obama does not pick one of the past or present faculty members this year, feelings run strong on campus that he will before he leaves the White House."
Leahy wants Obama to look beyond federal bench. The AP (5/3, Daniel) reported, "Democratic and Republican senators said Sunday they hope President Barack Obama looks beyond the federal bench as he considers a replacement for retiring Supreme Court Justice David Souter." According to Senator Patrick Leahy, it would be good "to see more people from outside the judicial monastery, somebody who's had some real-life experience, not just as a judge."
Specter says pick should be someone with "diversity." FOX News (5/3) reported, "Not white. Not male. Not a career judge. Those were just some of the criteria senators outlined Sunday as they discussed their hopes for the next Supreme Court justice." Sen. Arlen Specter said, "'I would hope that he would look beyond the Circuit Courts of Appeals which now populates the Supreme Court and pick someone with a greater world experience and diversity'…noting that the sitting justices have 'lives and experiences which are all very similar.'" The Hill (5/4, Bolton) and the Chicago Tribune (5/3, Hook, Parsons) also cover the story.
Nomination may ignite debate on social issues. An analysis piece by the AP (5/2, Babington) reported, "President Barack Obama has tried to hold off debate on contentious social issues such as abortion, immigration and gay rights as he focuses on the economy and the wars in Iraq and Afghanistan." However, "the Supreme Court vacancy will make that harder to do." Now, "the process to replace retiring Supreme Court Justice David Souter could pump new oxygen into national debates over abortion, immigration, minority rights, limits to privacy and other matters."
Business may not need to be too concerned about Souter replacement. Forbes (5/2, Fisher, Zumbrun, Wingfield) reported that the business should not be too concerned about the new Supreme Court justice. Thomas Goldstein, co-head of Akin Gump's litigation and Supreme Court practice, said, "You could put the head of NARAL or the ACLU on the court right now and it wouldn't move the court to the left because they don't have five votes…It doesn't change the balance of the court." William Eskridge, a professor at Yale Law School and a prominent scholar on Supreme Court dynamics added "Many of the business cases were 6-3 or 7-2 [decisions] and that isn't likely to change." However, "employment law cases, where a liberal member of the court could tip that balance 5-4 to the left, may be an exception. But the most furious lawyering will be over federal pre-emption of state tort law, which Souter reluctantly embraced and is opposed by some conservative justices."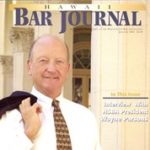 A resident of Honolulu, Hawaii, Wayne Parson is an Injury Attorney that has dedicate his life to improving the delivery of justice to the people of his community and throughout the United States. He is driven to make sure that the wrongful, careless or negligent behavior that caused his clients' injury or loss does not happen to others.