While the Hawaii legislature considers handing out a free pass for doctors to injure their patients through blatant mistakes and not have to pay for it, a recent survey shows that the medical profession has a problem: half of the doctors in the survey hide real mistakes when they see them made by other doctors. Called the conspiracy of silence, it is the classic cover-up. Does this profession deserve protection or a good dose of ethics and accountability? In Hawaii the legislature is on the way to rewarding the doctors rather than requiring them to live by the same accountability standards as truck drivers and waitresses.
What doctors say is proper behavior isn't always what they practice according to the report of a survey of 1,600 doctors conducted by the prestigious Columbia University's Institute on Medicine as a Profession's Survey on Medical Professionalism.
American physicians know that incompetence and mistakes among peers should be reported. However, when they witness those problems, nearly one-half fail to do anything, according to the Columbia University survey. The survey points to many gaps between what physicians believe is professional and ethical and what many do in practice, including:
•Although physicians say they don't want to waste scarce medical resources, 36 percent said they would order unneeded magnetic resonance imaging for back pain, not because it was necessary, but because the patient requested it.

•98 percent of the responding physicians believe in minimizing disparities in care due to a patient's race or gender. However, only 25 percent said that they even look for that gap in their own practice.

•Although 96 percent of physicians said they would put a patient's welfare above their own financial interest, a large majority of physicians also said they would refer patients to an imaging facility with which they had a financial connection.

•Between 93 percent and 96 percent of physicians said they believe they should report all instances of significant incompetence or medical errors that they observe to the proper authorities, yet nearly half did not do so.

•93 percent believe they should provide necessary care regardless of a patient's ability to pay. However, only 69 percent are currently accepting uninsured patients.

•77 percent of physicians believe they should undergo recertification examinations periodically, but only 33 percent have undergone a competency assessment by a provider organization or health plan since graduating from medical school.

•Nearly all physicians believe they should participate in peer evaluations of the quality of care provided by colleagues and should be willing to work on quality improvement projects. But only a little more than half have participated in a formal medical error reduction initiative or have reviewed other physicians' medical records for quality improvement reasons.
The findings are from the Institute on Medicine as a Profession's Survey on Medical Professionalism. IMAP is a New York City-based organization affiliated with Columbia University.
"There is a measurable disconnect between what physicians say they think is the right thing to do and what they actually do," says lead author Eric Campbell, associate professor at Massachusetts General Hospital's Institute for Health Policy and Harvard Medical School. "This raises serious questions about the ability of the medical profession to regulate itself."—The study can be found at www.imapny.org.
A recent Reader's Digest article by Michael Crowley of the New Republic, "Outrageous! Doctors Who Do Harm – Good physicians know the bad ones in their midst. Why don't they point fingers?" reviews the Columbia study. These exposes on the medical profession should be "must reads" for politicians and the public. It would be refreshing for a change if the doctors' organizations and their insurers stopped complaining about lawsuits and looked at the harm that is being done by bad doctors and doing something about it. Stopping patients from filing lawsuits against bad doctors only makes the situation worse. The fact is that almost no lawsuits are filed against doctors in Hawaii. The medical profession has a shameful history of covering up the facts about doctors who do harm and most patients have no way of knowing that their problem was caused by a negligent doctor because the entire medical establishment will wrongfully hide the facts.
The conspiracy of silence is at an all time high among doctors. Here is an example from Reader's Digest:
Robert Whitney of Attleboro, Massachusetts, suffered persistent and crippling stomach pain until his problem was finally diagnosed: During a hernia operation four years earlier, surgical mesh had been mistakenly attached to his bladder. The surgeon, Dr. Jose Veizaga-Mendez, was dunned $652,000 for that bit of malpractice, disciplined by his hospital and investigated by the state over the quality of care provided to seven other patients, two of whom died. In 2006 he surrendered his license to practice medicine in Massachusetts.

But by then, Veizaga-Mendez was plying his trade at the VA Medical Center in Marion, Illinois. Supervisors had called Massachusetts state licensing authorities for references — but weren't warned about the physician's history. In November the Department of Veterans Affairs announced it was investigating whether Veizaga-Mendez was at fault in the deaths of ten patients, including a 50-year-old Air Force veteran who died after what was supposed to be a routine gallbladder operation.
All doctors learn the commandment "first, do no harm" but when a doctor is negligent and injures a patient the medical establishment resorts to another, less noble commandment: "Thou shalt not speak ill of thy fellow physician."
Columbia University's survey revealed that 46 percent of the doctors had witnessed "serious" medical errors by their colleagues without reporting them. Ninety-three percent (93%) admitted that they should turn such doctors in but just didn't do the right thing. Making matters worse is the common practice of doctors giving their colleagues lenient treatment in state disciplinary proceedings.
"Doctors say, 'There but for the grace of God go I. Do I want to take away this guy's livelihood?'" says Arthur Levin of the New York-based Center for Medical Consumers.
Patients are hampered by a lack of information. The medical profession has worked hard to hide its mistakes. Only 16 states tally all malpractice payouts made by doctors on public websites. Says Dr. Sidney Wolfe of Public Citizen, a pro-consumer watchdog group: "There isn't an adequate system to catch these doctors after they've done one or two things, as opposed to just letting them go on and on."
An example is the State of Maryland where ten investigators must track 17,000 doctors. In 2006 they had a backlog of 400 cases. Complaints routinely take three years to resolve, a Baltimore Sun investigation showed. But even when doctors are sanctioned, they usually keep practicing. One Maryland physician continued to see patients after settling three malpractice claims in five years, including one involving a death. No information about his history turned up on the state's public database.
Dr. Susan Dorr Goold, a pioneer of teaching ethics to doctors, says conversations about ethics must occur in classrooms, examining rooms and even hospital hallways.
"The more you make it separate, the more marginalized it is," says Goold, an assistant professor of internal medicine at the University of Michigan.
"The people who know what's going on are on the inside," says Rosemary Gibson, coauthor of Wall of Silence, a book about this phenomenon.
Patients suffering bad medical treatment are also forcing legislators – who normally have a cozy relationship with the powerful medical and insurance community – to do something to stop the institutional cover-up.
An example is Patty Skolnik's son, Michael, who passed out suddenly in 2001. A Denver doctor examined Michael and told Patty that her son had a tiny brain cyst that could be removed in a three-hour surgery. The operation took six hours and no cyst was found — plus Michael suffered grim complications. He was left paralyzed, partially blind and psychotic. He spent 32 months in the hospital before dying at age 25.
Colorado authorities dominated by medical profession insiders exonerated the surgeon, but Michael's family didn't accept the white wash of Michael's wrongful death due to medical malpractice. "The doctor basically killed Michael that day," says Patty Skolnik. Through her own efforts she learned that the surgeon had a medical malpractice case pending against him in Georgia. Patty Skolnik went to the Colorado legislature, met with lawmakers and testified for a proposed statute requiring physicians seeking or renewing a Colorado medical license to report all malpractice settlements or disciplinary actions against them.
Skolnik was in the room at the statehouse when Colorado Governor Bill Ritter signed House Bill 1331, known as the Michael Skolnik Medical Transparency Act. Skolnik is ready to take her grass roots crusade to the next level and is talking with other consumer activists about pushing legislation in Washington.
"I had to do something," she says. "My son's not coming back." Thanks to her, though, perhaps someone else's son won't be lost.
Reader's Digest identifies how you can "make a difference":
For advice on monitoring problem doctors in your state, contact Patty Skolnik, a one-woman clearinghouse, at coloradocitizensforaccountability.org or 303-691-9339 . Other resources:

• Consumers Union, now active in this field; consumersunion.org.

• Helen Haskell, Mothers Against Medical Errors

• Wall of Silence, a call to arms for more accountability in medical care. The book's authors donate its proceeds to patient support groups.
Michael Crowley, the author of the Reader's Digest article is a senior editor at The New Republic.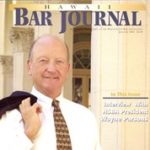 A resident of Honolulu, Hawaii, Wayne Parson is an Injury Attorney that has dedicate his life to improving the delivery of justice to the people of his community and throughout the United States. He is driven to make sure that the wrongful, careless or negligent behavior that caused his clients' injury or loss does not happen to others.