In this real case a woman in her 40's underwent a screening mammogram which was read by the radiologist as normal. Several months later she detected a lump in her left breast and was subsequently referred for a diagnostic mammogram and sonogram. The radiologist who interpreted the tests reported them as normal, and the patient did not undergo a biopsy.
Several months later, the breast became inflamed and the patient underwent a biopsy and was diagnosed as having Stage III breast cancer that had spread to 12 of 16 lymph nodes.
The patient then underwent a mastectomy, chemotherapy and radiation but died of her disease about 20 months after the diagnosis.
In this case, the radiologist failed to properly interpret the second mammogram which showed abnormalities that warranted performing a biopsy.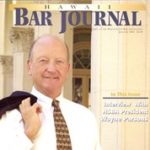 A resident of Honolulu, Hawaii, Wayne Parson is an Injury Attorney that has dedicate his life to improving the delivery of justice to the people of his community and throughout the United States. He is driven to make sure that the wrongful, careless or negligent behavior that caused his clients' injury or loss does not happen to others.