Health care is an important subject to all people and it is particularly important to the clients I have represented in Hawaii over the years who have personal injuries or illnesses and must have medical care to get back on their feet and reestablish their lives. Although my clients often have special sources of health care funds like auto insurance or property insurance, the recent debate in Congress made me think about those times when someone needs to go to a doctor and can't afford to do so. The debate focused a lot on the efficiency of various ways of providing health care, from totally government paid for health care, to just letting the private insurance companies run the program as it is now. I kept wondering how each system handles the person _ a real person with an immediate need for treatment _ who has no source of funds or insurance to pay for treatment. Kids are going untreated right now because of this situation. So as I followed the debate I saw the 31 million of people _ real people _ who had no health insurance and wondered how each plan would help them.
I am a big fan of Lance Armstrong and I follow his health initiatives at Livestrong. They recently posted the following list of reasons why the health insurance reform bill that Congress just passed matters:
The vast majority of people are not facing a health care crisis right now. It is easy to ignore problems when we don't have them right now. But those problems will come to all of us and our families over our lives and when the health problems arise the pain and fear that comes is worse than any other crisis we face in life. Let's look a little more closely at what Lance Armstrong thinks about the new bill that President Obama signed and is now implementing:
Do we agree with every provision? No. Did we fight for more in some places and less in others? Yes. But at the end of the day, I'm proud to say this bill will have an enormous positive impact on the lives of cancer survivors.

To drive this point home, our team drafted a list of the five elements of health care reform we can all be excited about that are now the law of the land. Will you take a quick look at the Survivor's Top Five below and share it with your friends and family? It's important that we all know what's in this critical new law:

Survivor's Top Five—Health Care Reform

"Pre-existing" conditions are history. As soon as this year for kids, and for all individuals by 2014, no insurance plan can deny you because you're fighting cancer or any other illness.
You can't lose your insurance when you need it most. Within six months, no person can be dropped from their insurance plan when they receive a diagnosis of cancer or any other disease.
An end to "lifetime caps" on your benefits. You won't have to worry about your benefits "running out" as you're fighting to take care of yourself or a family member.
More coverage for young adults. Beginning in six months, you can stay on your parents' coverage up to the age of 26.
Support for clinical trials. By 2014, the law will prohibit new health plans from dropping or limiting coverage just because an individual is enrolled in a clinical trial.

Passage of this bill is historic, but just the beginning. We're going to continue our work as this law is implemented to push for policies that reduce the prevalence of cancer and support survivors. It's not always easy or neat, but it's important work. And with your help—like the more than 100,000 of you who supported our campaigns on health reform—we'll keep pushing for victories that lead us to a world without cancer.
For parents of young children I can think of no issue that is more important to their future than this one: protecting their health in the future. With the shrinking of the middle class, the elimination of many benefit programs that employers used to offer, the uncertainty of future jobs as entire careers are eliminated frequently, what are the kids of today going to do in the next 50 years when illness and injury strikes? It certainly will strike. That is guaranteed?
I am curious about why the public doesn't get more involved? It seems that the politicians are creating false protests like the Tea Parties that are populated by either paid or manipulated protesters. We see the polls but do they really reflect well informed opinions? I hope Americans will turn their attention on this very important issue as it is just at the beginning and the insurance industry, fearing a threat to its huge profits and its political dominance on our elected officials at all levels, is pumping billions of dollars into disinformation advertising campaigns to create fear in the public.
What do you think?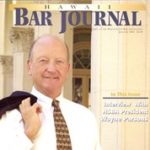 A resident of Honolulu, Hawaii, Wayne Parson is an Injury Attorney that has dedicate his life to improving the delivery of justice to the people of his community and throughout the United States. He is driven to make sure that the wrongful, careless or negligent behavior that caused his clients' injury or loss does not happen to others.