The AP (9/18) reports that on Thursday the Obama Administration "announced $25 million in grants for states and health care systems to experiment with alternatives to costly medical malpractice lawsuits." The grants will amount to "up to $3 million each for three years," and can be used for "a range of ideas, including programs in which doctors and hospitals quickly acknowledge a mistake, offer an apology and restitution, and pledge to take corrective action."
I wrote yesterday about the fact that tort reform has no place in the health care discussion.
Tort Reform Has No Place In Health Care Reform
The Los Angeles Times (9/18, Nicholas) called the program "modest." Though it "was meant as a bipartisan overture [it] was quickly denounced by Republicans, business and consumer groups as an empty gesture." After Obama's announcement, "opposition came from all points," suggesting "that Obama had gained little ground" with the program. Health and Human Services Secretary Kathleen Sebelius, however, argued, "I think the good news is that the president feels strongly enough about this that he wants us to move ahead right now. … He's not using this as a lever in the healthcare debate, but he feels that we can move ahead."
Today Jane Akre writes that 45,000 people die annually because of no health insurance: 45,000 People Die Annually From Lack Of Insurance Study Finds By Jane Akre | September 18, 2009 11:34 AM
The Washington Post (9/18, Connolly) characterizes the announcement as a move by Obama to "ease the pain" felt by physicians after "a pair of setbacks" Wednesday in Sen. Max Baucus' proposed health reform bill. Sen. Baucus' bill "does nothing substantively to address malpractice costs and offers them only modest gains on the high-priority issue of Medicare reimbursement." The Post notes that while the AMA has not issued a statement concerning the grants, several "prominent AMA members complained bitterly about both the Baucus approach and the administration grants." The Wall Street Journal (9/18, Weisman) added that the grant application phase will open within 30 days, with award announcements expected in early 2010, according to Sebelius.
CNN (9/18) explains that the HHS program will award grants "on a competitive basis to states and healthcare systems for implementing and evaluating 'patient safety and medical liability demonstrations.'" President Obama pointed out, "Many physicians continue to struggle to pay their medical malpractice premiums." Sebelius noted that "approximately one percent of overall healthcare costs nationwide are attributable to malpractice premiums."
The Wall Street Journal (9/18, Weisman) adds that the grant application phase will open within 30 days, with award announcements are expected in early 2010, according to Sebelius.
Many news outlets noted that the President in the past has denied that medical malpractice premiums are worthy of much focus in the health reform debate. The New York Times (9/17, Seelye) "Prescriptions" blog reported that the program's "comparatively small budget seems commensurate with the administration's level of interest in the subject," and that the grants "are a concession to Republicans by the president."
The ABC News (9/17, Travers, Miller) "Political Punch" blog added that "at a healthcare rally at the University of Maryland [Thursday], Obama reiterated that he did not think medical malpractice reform is a 'silver bullet' for cutting healthcare costs, but said that he wants to explore the idea, with a nod to bipartisanship."
The NPR (9/17, James) "Two-Way" blog reports that while "a lot of people believe" that "medical malpractice is a major contributor to healthcare inflation…the available evidence is with the president." NPR noted that "perhaps one percent or less of healthcare's high costs has been attributed in many studies to malpractice lawsuits."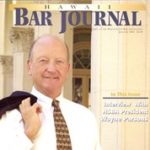 A resident of Honolulu, Hawaii, Wayne Parson is an Injury Attorney that has dedicate his life to improving the delivery of justice to the people of his community and throughout the United States. He is driven to make sure that the wrongful, careless or negligent behavior that caused his clients' injury or loss does not happen to others.