The Atlanta Journal-Constitution (9/16, Rankin) reports on the case of a 75-year-old Marietta, Georgia, woman who was "permanently disfigured" after complications from facial surgery, noting that her "case is now before the Georgia Supreme Court, which on Tuesday considered for the first time the constitutionality of the centerpiece of the state's sweeping 2005 tort reform law – caps on jury awards in medical malpractice cases." The piece notes the argument from the surgeon's attorneys that the "Legislature properly imposed the caps to keep doctors from leaving the state in droves because their malpractice insurance premiums were too high," and the plaintiff's attorney's argument that "the law punishes those who suffer the greatest malpractice injuries to the benefit of those who caused the most harm."
The AP (9/15, Walker) also reports on the case of the "botched face lift," noting that her attorneys "asked Georgia's top court on Tuesday to overturn a state law that caps damages in medical malpractice lawsuits at $350,000. The case centers on a Georgia tort reform law passed in 2005 that caps the amount a jury can award for malpractice victims' pain and suffering. The laws were an attempt by lawmakers to ease the high malpractice insurance costs linked to large payoffs. On Tuesday, attorneys debated before the Georgia Supreme Court whether the Legislature setting the limit overstepped their bounds." Plaintiff's attorneys "said the law overturns a jury's centuries-old right to determine how much to compensate a victim."
The Atlanta Business Chronicle (9/16, Williams) adds that the woman's lawyer told the court that the cap "violates the right to a jury trial," adding, "The liability cap was a key provision in a tort reform bill Republicans made their top priority after taking full control of the legislature in the 2004 elections for the first time since the 19th century. Lawmakers in Georgia and other states have embraced restrictions on jury awards as a way to curb rising medical malpractice insurance premiums that have long been a chief source of complaint among doctors. Despite the cap, a Fulton County jury awarded $1,265,000 to Betty Nestlehutt, 71, in 2007 after she was left with permanent scars and discoloration from a facelift that went wrong."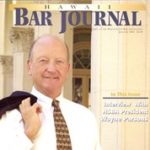 A resident of Honolulu, Hawaii, Wayne Parson is an Injury Attorney that has dedicate his life to improving the delivery of justice to the people of his community and throughout the United States. He is driven to make sure that the wrongful, careless or negligent behavior that caused his clients' injury or loss does not happen to others.