Thanks to Tom Morton, Staff Writer for the Casper Wyoming Star-Tribune for this story about U.S. Army Staff Sgt. Edward Poche. U.S. Army Staff Sgt. Edward Poche is a true hero. He fought for all of us in Iraq. Then he had to fight again when he came home against the American medical profession.
Staff Sgt. Edward Poche who was formerly based in Casper, Wyoming lost his career in the military due to injuries inflicted by two private physicians: Dr. Raoul Joubran and Dr. Mary MacGuire. Poche tried to get them to go into mediation and they refused. He then tried to get them to go to the Wyoming Attorney General's Medical Review Panel and they refused according to the Star-Tribune story. At that point Poche had no choice but to sue the Casper doctors in federal court for medical malpractice that nearly killed him.
"First, it was for my family," former U.S. Army Staff Sgt. Edward Poche, 39, said in an interview from his home in Byron, Ga.

"I lost my career over what happened, and [the family] had to come first," Poche said.

He and his wife, Cynthia, also wanted Wyoming residents to know they have the right to take action in similar cases, he said. "I survived; the next guy might not."

Poche's attorney, Steven Shapiro, said he partly framed the case with a public perspective. "We told the jury, 'Is this the kind of care you want in the state of Wyoming?'"
The trial lasted 4 weeks and the jury in U.S. District Court in Cheyenne awarded the Poches $1.6 million in damages. The jury found Dr. Raoul Joubran 60 percent negligent and Dr. Mary MacGuire 40 percent negligent. The jury determined that a third doctor, Dr. James Anderson, was not negligent.
The jury also made the negligent doctors pay the federal government $380,000 in compensation for the Bethesda (Md.) Naval Hospital, which had to repair the damages caused by Joubran and MacGuire.
In court documents and at trial, the doctors said they operated within the standard of care and their efforts saved Poche's life.
It would not be surprising if the negligent doctors file an appeal which delay justice for the Poche family for years. The appeal would go to the 10th U.S. Circuit Court of Appeals in Denver. Doctors rarely admit fault. The statement by one of the doctor's attorney shows how the medical profession tries to snow the public:
The case could have wider implications, too, Combs said. "I think this verdict will have a negative effect on health care in Wyoming."
The Star-Tribune story by Tom Morton:
The case started when Poche, stationed in Casper with the 651st Army Reserve Quartermaster Company, went to Joubran of Gastroenterology Associates for an evaluation on July 26, 2005, because of abdominal pain from a previous surgery.

Three days later, Joubran performed procedures the Poches said were unnecessary. On July 30, Poche suffered severe abdominal pain, went to the emergency room of the Wyoming Medical Center, and had a CT scan showing a perforated small intestine. Some procedures were done, but Joubran did not request a repeat CT scan and a surgical consultation until Aug. 1, according to the complaint.

That day, MacGuire performed surgery to repair the torn intestine and to stop the spread of fluid damaging his organs. That was 67 hours after the initial procedures and more than 51 hours after Poche went to the emergency room, according to the complaint.

Poche was transferred to the intensive care unit in critical condition, and was thought to be at risk for multiple organ failure. MacGuire's surgery led to further complications, according to the complaint, but she had to turn the case over to Anderson because she was leaving for vacation.

Anderson, of Wyoming Surgical Associates, operated on Poche on Aug. 6, but he should have known the patient's needs were beyond the expertise of himself and the hospital, the complaint states. Instead of transferring Poche to another hospital, Anderson performed five more surgeries, according to the complaint.

Because of the lack of progress, Cynthia Poche persuaded Anderson to transfer her husband to the Bethesda Naval Hospital in Maryland, according to the complaint.

She was a hero because of her insistence, Shapiro said. She also left her 13-week-old newborn to the care of others in Georgia while she attended the trial in Cheyenne, he said.

Cynthia Poche said she had to do it even though few medical malpractice lawsuits that go to trial are decided in favor of people like her. "You just know in your gut something's wrong, and this was very wrong."

Edward Poche, Shapiro said, did not remember anything from the time he entered the Wyoming Medical Center to his recovery in Maryland, did not see his other child for more than eight months, has had his stomach half-reconstructed with a special mesh, and is restricted in his movements — no bending, twisting or lifting anything over 10 pounds — so he can no longer work as a diesel mechanic. The Army discharged him last week.

The damages awarded by the jury cannot restore Poche's life to its former quality, but it will give his family a start and hopefully serve as an inspiration to those who believe they've been harmed by medical malpractice, he said.

According to the clerk of U.S. District Court, the jury awarded Edward Poche $165,000 for future medical expenses; $400,000 for future lost earnings; $50,000 for past and future household services; $375,000 for pain and suffering; $250,000 for lost of enjoyment of life; and $250,000 for disfigurement and disability.

The jury awarded Cynthia Poche $100,000 for loss of consortium — company, help and affection — with her husband.

It also awarded the federal government $380,000 to compensate for the care the military provided Edward Poche. Assistant U.S. Attorney Steven Sharpe was out of his office and could not be reached for comment.

All things considered, Poche said he's doing well and facing the realization that he will need to go to school to learn a new trade.

While his Army career is over, it taught him a lesson that helped him through his ordeal, he said. "Being a military man, when I start something I finish it."

Reach Tom Morton at (307) 266-0592, or at tom.morton@trib.com. Read his blog at tribtown.trib.com/TomMorton/blog.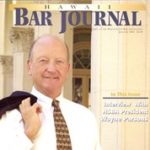 A resident of Honolulu, Hawaii, Wayne Parson is an Injury Attorney that has dedicate his life to improving the delivery of justice to the people of his community and throughout the United States. He is driven to make sure that the wrongful, careless or negligent behavior that caused his clients' injury or loss does not happen to others.