Consumer advocates Fair Arbitration Now point out that:
"Corporations oppose the Arbitration Fairness Act because the system of forced arbitration allows them to escape accountability for discrimination, harassment, gross negligence, fraud, and other corporate wrongdoing. Businesses aren't looking out for the best interests of consumers and employees; they want to protect their ability to force individuals into a system that they design. Who wouldn't want to control the method by which claims against them are resolved?"
Two bipartisan bills introduced this Congress will make sure the decision to arbitrate is made voluntarily and after a dispute has arisen, so corporations cannot manipulate the arbitration system in their favor at the expense of consumers:
Arbitration Fairness Act of 2009 (H.R. 1020)

The bill would amend the Federal Arbitration Act to prevent the use of pre-dispute mandatory arbitration clauses in consumer, employment and franchise agreements. This legislation would not prohibit arbitration.
Sponsors: Rep. Hank Johnson (D-Ga.)

The Fairness in Nursing Home Arbitration Act (S. 512 / H.R. 1237)

Would eliminate forced arbitration clauses specifically in nursing home contracts.
Sponsors: Sens. Mel Martinez (R-Fla.) and Herb Kohl (D-Wis.) / Rep. Linda Sanchez (D-Calif.)
Support both of these bills by writing your representatives.
In recent research Americans oppose forced arbitration that takes away their constitutional rights:
Americans widely oppose corporations using mandatory binding arbitration clauses in the fine print of consumer and employment contracts, according to national polling of likely voters conducted by Lake Research Partners.

Forced arbitration clauses are hidden in the fine print of everything from cell phone, home, credit card and retirement account terms of agreement to employment and nursing home contracts. Just by taking a job or buying a product or service, consumers and employees are forced to give up their right to take their case to court if they are harmed by a corporation.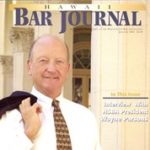 A resident of Honolulu, Hawaii, Wayne Parson is an Injury Attorney that has dedicate his life to improving the delivery of justice to the people of his community and throughout the United States. He is driven to make sure that the wrongful, careless or negligent behavior that caused his clients' injury or loss does not happen to others.