Boston.com again reports on significant medical discoveries, this time for ovarian cancer patients from the New England Journal of Medicine and M.D. Anderson Cancer Center.. MicroRNAs are a tiny but powerful set of molecules in our cells that regulate the way our genes behave.
Think of them as the conductors for the orchestra of the cell: a single microRNA watches over and modifies the way hundreds of genes carry out their functions. Messing with a microRNA interrupts the symphony: cells may start to grow uncontrollably, spreading to places they shouldn't be.
The mutations in microRNAs have been associated with a variety of cancers. Now, a research group from the M.D. Anderson Cancer Center at the University of Texas has found an association between disruptions in the microRNA system and the most deadly of gynecological cancers facing women today: ovarian cancer.
"The challenge we face with ovarian cancer is that patients often have vague symptoms, meaning they don't come into the clinic until they already have advanced difficult-to-treat disease, " says the principal investigator of the study, Dr. Anil Sood. What's needed is a good test, a marker, for catching patients who are more likely to go on to have severe disease, so that they can be targeted with more intensive therapies.
To find such a marker, the research group looked at cancer cells from more than a 100 patients with ovarian cancer treated with chemotherapy.
They found that patients with ovarian cancer who have low levels of two components of the microRNA system – called Drosha and Dicer – have significantly reduced survival rates, while patients with high levels of the molecules have greatly improved survival rates of more than 11 years.
"Now that we have a potential marker, we need to focus on how this may guide therapy," says Sood. Boston.com summarizes the topic well:
BOTTOM LINE: Levels of Drosha and Dicer, two key components of the microRNA system, are useful markers for predicting the severity of ovarian cancer.
CAUTIONS: More studies are needed before the markers can be used to guide therapy in the clinic.
WHAT'S NEXT: Study of therapeutic strategies using microRNAs that will improve outcomes.
WHERE TO FIND IT: The New England Journal of Medicine, Dec. 17.
SUSHRUT JANGI

© Copyright 2008 Globe Newspaper Company.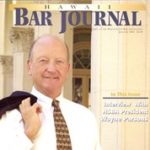 A resident of Honolulu, Hawaii, Wayne Parson is an Injury Attorney that has dedicate his life to improving the delivery of justice to the people of his community and throughout the United States. He is driven to make sure that the wrongful, careless or negligent behavior that caused his clients' injury or loss does not happen to others.