The United Brachial Plexus Network, Inc (UPBN) annonces the annual Brachial Plexus Injury Awareness Week (October 19 – 26, 2008) to promote public awareness of this injury to infants during childbirth. Brachial plexus injuries result in partial or complete paralysis of a baby's arm. Large baby's and small mothers increase the risk of this occurence.
Brachial Plexus injuries occur most often when the doctor performing the delivery exerts excessive force on the baby's head after the child's shoulder becomes stuck on the mother's pubic bone. Some urgency is warranted since the baby may be at risk to oxygen deprivation to the brain since the neck may be compressed. However, the doctor has about 5 minutes before any serious problem occurs and a well trained physician has time to safely dislodge the shoulder.
Although there are several maneuvers that will safely dislodge the shoulder, downward forces on the child's head will put stretching or tearing forces on the nerves that run from the cervical spine to the child's arm. A stretching of the nerves is sometimes referred to as Erb's Palsy and the general class of injuries is called shoulder dystocia.
Research at the Johns Hopkins Medical School has demonstrated that the natural forces of child birth cannot exert forces on the nerves in the baby's nerves to severe or significantly injure the baby's arm. Doctors and hospitals routinely tell parents that the injury is a normal consequence of difficult childbirth and that it will resolve with time. Pediatric neurologists are the doctors who can diagnose this condition after the baby is born.
UPBN lists the following goals for public awareness of this preventable condition:
"1. To increase awareness of brachial plexus injuries among the public at large.
2. To increase the participation and involvement of the Medical Community in Awareness Week.
3. To increase the participation and involvement of the brachial plexus communities throughout the nation so that more state proclamations are requested and processed.
4. To make a sincere and conscious effort to reach new families, individuals affected by brachial plexus injuries and families with newborns, so that they may become aware of our support and informational network.
5. To enhance our community involvement and sense of belonging."
UPBN can be contacted at: (866) 877-7004 or (email) info@ubpn.org and has produced materials for those who want to draw public awareness to this injury. The following are activities suggested by UPBN for Brachial Plexus Awareness Week:
"Monday
"Bring Brachial Plexus Injuries To Light" is a day for ceremonial beginnings, contacting politicians and official proclamation presentations. Arrange ahead of time to have "Brachial Plexus Injury Awareness Week" officially proclaimed by your Governor or Municipal leader. Invite the media and everyone you know to the official presentation, ring a bell to "Ring In Awareness" and light a candle at the ceremony to join us all in spirit, and wear and hand-out ribbons to all.
Tuesday
"Get the Word Out: Talking Up Awareness" is a day for contacting local and national media. Set aside time on this day to sit down and phone, write letters and send emails and faxes to as many media sources as possible regarding brachial plexus injury awareness. We will provide you with a list of popular media contacts and some guidelines to get you started, but be sure to use your imagination and determination! Try to set up interviews for this day with local media such as radio, television and newspapers to talk about Awareness Week and your personal experiences.
Wednesday
" Outreach to the Medical Community" is a day for reaching out to the medical community to increase awareness of brachial plexus injuries. Contact local hospitals, pediatricians, family physicians,and specialized caregivers to share information about brachial plexus injury awareness. Isthere a brachial plexus clinic in your area? Work together with them to do something special for Awareness Week on this day.
Thursday
"Sharing and Educating: Handing Out Awareness" is a day for reaching out to the community to educate others about brachial plexus injuries. This would be a great day for visiting your child's school to talk about brachial plexus injuries, or to hand out information at work or at the mall (be sure to get permission first)…the opportunities for sharing information are limited only to your imagination. We will provide lots of ideas to get you started, the rest is up to you!
Friday
"Stretching the Limits: A Day of Therapy Awareness" is a day dedicated to sharing awareness with physical and occupational therapists, and a day for engaging in fun therapeutic activities. Schedule a family swim night, plan a playdate at a kiddie gym or McDonald's Playland, go for a professional massage. Take information about brachial plexus injury awareness to your therapist, along with a small token of appreciation. Hand out brochures or information at other therapy offices.
Saturday
"Wrapping Up Awareness" is the final day of Awareness Week and a day set aside for personal reflection, bell ceremonies to close out the week, and preparation of materials detailing your activities and thoughts during Awareness Week (photographs, writings, press clippings, etc.). These materials will be submitted to the Awareness Committee. Awareness Awards will be presented to those who demonstrate exceptional participation, and all the materia ls received will be compiled into an "Awareness Week" scrapbook.
UPBN can be contacted at: (866) 877-7004 or (email) info@ubpn.org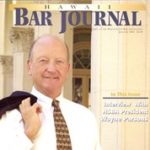 A resident of Honolulu, Hawaii, Wayne Parson is an Injury Attorney that has dedicate his life to improving the delivery of justice to the people of his community and throughout the United States. He is driven to make sure that the wrongful, careless or negligent behavior that caused his clients' injury or loss does not happen to others.