A lot of health care news comes out of the financial industry. If you try to find out about how good a new drug is and search the internet you will find a lot of information that is tied to stock market sources. These often have press releases from pharmaceutical companie about research results at hospitals and Universities. Often, that information is overly positive because the drug companies want to hype new products to get investor dollars and hype eventual sales.
What would think if – behind the scenes – those big pharmaceutical companies were making gifts to the researchers and hopsitals that do their research? It raises the concern about how objective the research is and whether the hype seen in the press can be trusted. Now, after exposure of this problem by trial attorneys and other consumer organizations like the American Association of Justice (AAJ), Public Citizen and The Center for Justice & Democracy (CJ&D), the participants in this hidden process of gifts have started to come clean. This is good news or the public and particularly for patients with serious diseases like multiple sclerosis and cancer and diabetes, who are desperately trying to find treatments and cures. I have written before about the ethical deficienies in medicine. Oncologists who were asked confidentially about their prescriptions said overwhelmingly that they would not prescribe a better cancer treatment if it was not as profitible to their business. Shocking? You bet. So, the medical profession needs to clean up its act and start playing by the rules that average citizens play by. The story today about transparency in gifts to doctors is one step in the right direction.
Bloomberg News (4/10, Lauerman) reports, "A group of Harvard Medical School- affiliated hospitals will adopt new conflict-of-interest guidelines that forbid industry gifts to eliminate potential bias in patient care research and recommendations." Partners HealthCare "adopted rules that include bans on gifts and meals from industry and doctors' participation in industry speakers bureaus, according to a statement from the hospital group's president, James Mongan."
The Boston Globe (4/10, Kowalczyk) adds, "Doctors at Partners HealthCare may no longer accept gifts and meals from drug and device firms, or travel the country as paid members of company 'speakers bureaus,' as the state's largest hospital and physician network adopts tougher restrictions to counter industry's influence over the drugs and treatments physicians prescribe." The company is "also is placing new limits on how physicians interact with company sales representatives and increasing oversight of these relationships." These rules "go further than some other teaching hospitals," but not as far as the Stanford University School of Medicine, "which recently barred drug companies from paying for specific continuing medical education courses for doctors, or as Memorial Sloan-Kettering Cancer Center in New York City, which banned industry support for the courses altogether."
In a related story, Bloomberg News (4/10, Staley) reports, "Columbia University said faculty must report any conflicts of interest when publishing research, a move made six months after two U.S. senators asked about ties between medical-device makers and the school's scientists." In addition, NYU "also created a uniform set of conflict-of-interest practices for the medical school and the rest of the university." The moves come six months after, Senators Charles Grassley, a Republican from Iowa, and Herb Kohl, a Democrat from Wisconsin, "wrote to Columbia inquiring about links between 22 university professors and device companies."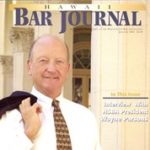 A resident of Honolulu, Hawaii, Wayne Parson is an Injury Attorney that has dedicate his life to improving the delivery of justice to the people of his community and throughout the United States. He is driven to make sure that the wrongful, careless or negligent behavior that caused his clients' injury or loss does not happen to others.