The AP (5/21, Yost) reports, "The Obama White House on Wednesday undid a Bush administration policy that used federal regulations to undermine a wide range of state health, safety and environmental laws" many of which "limited the ability of injured consumers to sue companies in state courts." This is the latest move by the Obama administration to undo pre-emption policy. Kenneth Baer, communications director at the White House Office of Management and Budget, said, "When it comes to pre-emption, we're saying no more of their approach." Now, "the Obama administration will ask agencies to go back and find Bush-era regulations that contain pre-emption language in the preambles or in the body of the regulations and that are not justified by law." Les Weisbrod, president of the American Association for Justice, said "the Obama administration has 'overturned actions taken by Bush administration bureaucrats who were influenced by powerful, well-connected corporations.'"
The Wall Street Journal (5/21, Mundy, Kendall) reports, "The memo didn't name specific industries but it could affect a wide range of consumer products subject to both federal and state regulation." The Chamber of Commerce's Bryan Quigley said, "Allowing for more lawsuits will not create more jobs, except maybe for plaintiffs' lawyers." However, a statement by the American Association for Justice said, "The move will buttress 'laws designed to give Americans basic rights to hold wrongdoers accountable.'"
BusinessWeek (5/21, Francis) reports, "Lauded by the plaintiffs' bar and downplayed by some business groups, Obama's decision reverses a highly charged Bush Administration practice and could help rewrite the legal landscape for everything from pharmaceuticals and beauty products to car safety equipment, mattress flammability, and food sweeteners." Les Weisbord, president of AAJ said, "On behalf of the thousands of people whose cases have been affected by complete immunity preemption, we are heartened by the Presidential memo released today." He added, "The Obama memo on regulatory preemption makes clear that the rule of law will once again prevail over the rule of politics."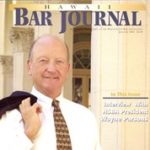 A resident of Honolulu, Hawaii, Wayne Parson is an Injury Attorney that has dedicate his life to improving the delivery of justice to the people of his community and throughout the United States. He is driven to make sure that the wrongful, careless or negligent behavior that caused his clients' injury or loss does not happen to others.