In an article published in the Journal of the American Medical Association (JAMA), doctors oppose the Bush Administration attempt to grant complete immunity to drug companies through a doctrine know as "pre-emption". Attorneys have long voiced their opposition to this latest attempt by drug companies to avoid responsibility for dangerous drugs. The leading consumer rights organization of attorneys, The American Association of Justice (AAJ) has provide a detailed analysis of the subject in: Complete Immunity Preemption – A Get Out of Jail Free Card for Corporations :
It's called federal preemption, and it refers to situations in which federal regulation trumps state law. And, perhaps most surprising, Americans and many policymakers have never heard of it. When viewed through the context of unsafe products, preemption of state law means complete immunity from lawsuits for corporations and a full escape from accountability when they have knowingly injured and endangered Americans. The civil justice system offers corporations a powerful incentive to make their products safer. All people should have a fair chance to receive justice through the legal system when they are injured by the negligence or misconduct of others—even when it means taking on the most powerful corporations.
To date, seven federal agencies – many times without any opportunity for public comment which is required by law (the Administrative Procedure Act) – have issued over 56 rules with preemption language in the preamble to the rule. The Constitution of the United States holds that the decision to preempt state law rests entirely with the United States Congress. Where the intent of the Congress is not clear, it is the responsibility of the Judiciary to interpret. As a result of these preambles, states have had their authority curtailed by federal agencies.
The AAJ article describes the facts of the Wyeth vs. Levine case that will be argued at the U.S. Supreme Court on Monday November 3, 2008:
On April 7, 2000, Diana Levine, a professional musician, went to the hospital to treat a migraine headache and, after being injected with a drug manufactured by Wyeth, left with injuries that led quickly and irreversibly to the loss of her right arm. Specifically, Levine's arm was amputated because Wyeth's drug Phenergan, prescribed to alleviate nausea associated with a migraine headache, reached her arteries. Phenergan was given to Levine using a method of administration that was permissible under Wyeth's label instructions, even though Wyeth knew this method increased risk of contact with arteries and serious injuries.

The drug was administered intravenously through a technique known as direct IV, or "IV push." In this method, a syringe pushes medication directly into the patient's vein. Wyeth had known for decades that when Phenergan is administered by the IV push method, even by experienced clinicians, inadvertent arterial contact can result. This is in contrast to administration through a free flowing IV bag, which reduces the risk of inadvertent arterial injection because the nurse or physician can be more certain that the needle has been placed in a vein. A solution dripping from an IV bag will not flow freely into an artery due to back pressure from the patient.

Wyeth had also known that when Phenergan comes in contact with an artery, the artery dies, and necrosis, gangrene, and amputation result. Four experts testified at the state level that if Phenergan is used intravenously, it should be done only through a hanging IV bag and that the label should have warned against the use of IV push. However Phenergan's label did not contain any warnings regarding use of the IV push method. And, as the Vermont Supreme Court held, the FDA never made any determination as to whether the label should have warned against the IV push method.

Because the IV push method was used to administer Phenergan to Levine, the drug penetrated her artery. For seven weeks after the injection, she suffered unimaginable physical and emotional pain as she watched her right hand turn black and die. In short, as a result of being subjected to an unsafe and unnecessary method of administration of a drug to curb nausea, Levine endured two amputations. She first lost her right hand and then her right arm up to the elbow, harming her profession and lifelong passion to be a musician and play the guitar.
Doctors agree that these regulations are unwise and against the best interest of their patients. As has been too often the case during the Bush Administration, the interests of big corporations has been put ahead of the interests of the people, and the U.S. Constitution. Corporate CEO's have caused great harm to the American democracy and the Rule of Law.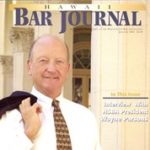 A resident of Honolulu, Hawaii, Wayne Parson is an Injury Attorney that has dedicate his life to improving the delivery of justice to the people of his community and throughout the United States. He is driven to make sure that the wrongful, careless or negligent behavior that caused his clients' injury or loss does not happen to others.