Lawyers who are serious about helping injured people, belong to the national organizations that represent the interests of their clients. These organizations provide valuable sources of information and education for lawyers who are trying to be excellent in helping their clients. Ask any lawyer you think about hiring about what organizations they belong to. Ask them how active they are in the organization. Get specific and ask for details.
I recently had a friend ask about a lawyer to write up a will and I told him that I would make sure that any lawyer he hires is active in the Wills & Estates "sections" of the American Bar Association and the local Bar Association. In the case of Hawaii that would be the Hawaii State Bar Association. It is not a guarantee of competence but it is a good start.
Lawyers who network within these specialty bar associations learn about tips, share documents and are exposed to new ideas. For a personal injury, medical malpractice, product defect or Admiralty case, the lawyer you hire should belong to all of these organizations and be a member of Sections in the organizations that are part of that specialty. Any lawyer can buy TV time and brag about their expertise. Look behind the curtain.
Recently, I attended a seminar at the American Association of Justice convention in New York City. It cost a lot to travel to New York but I did it because I want to learn the latest concepts so I can be a better attorney for my clients in Honolulu. I heard a talk by Ira Leesfield from Miami, a legend among trial lawyers. Ira told us that he always subpoenas the cell phone records of the defendant driver in an auto crash case. He said that in 30% of the car crashes the offending driver was on the phone, often Texting. This is important. You see, in Hawaii there are 150,000 drivers with no insurance. And most drivers only carry minimum policy limits for Bodily Injury Coverage. Minimum coverage is $20,000. When one of these uninsured or underinsured drivers causes a serious injury, the injured victim will not be able to recover adequate _ or any _ money damages from the defendant. If medical bills are in the hundreds of thousands of dollars, and if wage loss is large, the victim will end up on welfare with a ruined life. So how does the talk by Ira play into this story? Well, in many of the cases where Ira gets the cell phone records he finds out that the driver was making a work call and often was using a cell phone supplied by the employer. That makes the employer responsible for the losses suffered by the victim. I do this in all of my cases now. Thanks Ira Leesfield! And thanks to AAJ for educating me about this new technique.
Any lawyer doing injury cases, who puts the client's interests first, will belong to all of these organizations:
American Association of Justice (AAJ) is the premier organization. That is where I heard Ira give this cell phone advice.
The Hawaii Association of Justice (HAJ)
The American Association of Justice (AAJ)
The Center for Justice & Democracy (CJ&D)
If a lawyer tells you that they "represent injured people" in any kind of injury case (medical malpractice, automobile accidents, defective products, etc. …) they should belong to all of these organizations if they care about being fully advised about your case.
There are far too many law firms that just want to make money and don't really care about being excellent in recovering the true value of their clients' losses. Lawyers must network with colleagues across the country if they hope to be fully aware of what is necessary to get a fair recovery of their clients losses.
Few personal injury law firms belong to all of these support groups. Check out the websites of these organizations and you will see why any lawyer doing personal injury work should be a member of each organization.
Being an informed consumer of legal services requires that you get educated and then ask questions.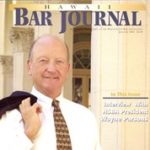 A resident of Honolulu, Hawaii, Wayne Parsons is an Injury Attorney that has dedicate his life to improving the delivery of justice to the people of his community and throughout the United States. He is driven to make sure that the wrongful, careless or negligent behavior that caused his clients' injury or loss does not happen to others.